Business Insights from Lang Business Owners
There has to be motivation. I wanted to create something for my family, and have a business built on a culture of quality of life for our team. I spent many years in the fine dining scene in downtown Raleigh. Before that, believe it or not, I was a sushi chef. Barbecue and smoking meats are what my family always did and something I've always done in my free time. That taught me a great deal about barbeque.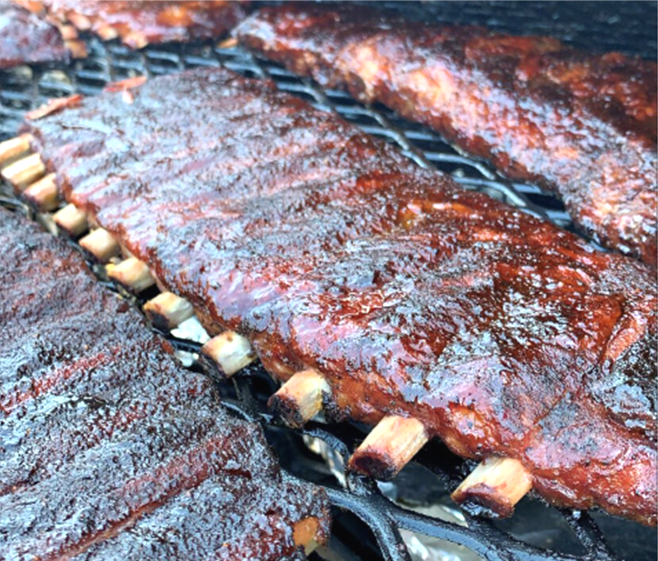 A business needs uniqueness. We serve barbecue, oysters, and leisure beverages. We have a leisure bar called Lagoon opening on top of the shop next month. Lagoon is our Leisure Bar that will be situated on top of Lawrence on what we call the "Party Deck." It will have a small menu of beer, wine, and hand-crafted tiki inspired "Leisure Bevs". We will also have a small bar snack menu that will come from the kitchen downstairs. My biggest challenge was learning how to handle the growing volume out of our tiny shop with a small staff and most importantly, before our smokehouse is complete.
To start the business, I filed the necessary forms online while sitting in the NICU with our newborn son. Then I worked hard on my business plan to gain the financial backing we needed to move forward. For a newcomer I'd say, make sure you surround yourself with the right people.
I owned and ran a maintenance business. But I always loved to cook. I was talking with my cousin in Florida about barbeque. He just kept after me to do it. He was relentless, and that started the idea to open a barbeque company. Sometimes someone else sees what you can do before you do.
I started with events at my mom's church. We gave meals away for free. Eventually I had four smokers including a 250-gallon before I discovered Lang. Employees are a really tough area. You have to look for people who want to work with excellence and dedication and learn the business. It's important  to offer something different or unique.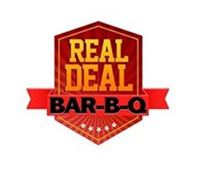 For me, it's all about absolute excellence. That can only come if you are sold-out on what you do with passion. Excellence goes beyond great—it's like a calling.  And you really have to love people and want them to have an amazing experience when they eat your food. God has blessed me greatly, even though the pandemic. We lost 8 weddings and events and are still here. That's all due to God's blessings. In fact, that's what got me started: Faith! I shut down my maintenance company and started this Cold-Turkey, all in and never looked back. I have always cooked from scratch. I make everything including my own sauces. It also takes great friends and customers to keep things inspired.
Business takes very hard work. When we started my wife would show up at 5:00 am help get things going, work to 3:00 pm then home to be with our children. My daughters were also here working, and Gary. That's what makes this whole thing work. My family and God's blessings. Now we have a roadside stand, two trailers and a food truck, so there's a lot going on. There is a danger to do too much and get stressed out. I wound up in the ICU totally stressed out, too busy, doing too much so you need balance with family. Being in the hospital means you are doing something really wrong in your business.
What I'd say to someone who wants to start a barbeque business:  Don't do it! I say that because unless you are really, truly committed and I would even say, called, this is a great, but tough business. I think a lot of people watch the barbeque TV shows and see the pitmasters doing their thing, but that's entertainment not the real world with a smoker and customers in front of you.
I just fell into smoking for others. It was something I enjoyed doing and love the fact that people love my food. I started in my backyard, I cooked for family and friends. I am 100% self-taught and know my limits.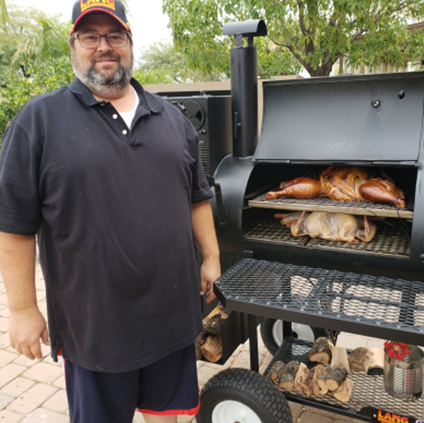 I really don't have a business in the traditional sense; I smoke meats and sell by the pound. If someone wants, I will smoke it for them if they bring the meat to me. I do not cater big events; I have done weddings and birthday parties up to 80 people. The biggest event I do every year is our church BBQ for 350 people, but I only smoke the pork and of course at no cost. This is what makes my Lang worth it because I can load enough meat in at one time. Before I would have to smoke in shifts and cool and reheat and I didn't like doing that at all. The point is that you have to find your own thing and focus on that.
If I could give advice to someone starting out its knowing your customers and what they like. Sometimes we want to smoke the things we like and that is not always the best we need to meet the needs of the customers. Don't overextend yourself if you are into catering, know your limits. Practice and set up tasting menus but not for friends and family, they will always tell you the food is great.
Early on I watched and learned step by step on my own. I fell in love with creating meals. There's nothing like watching people's faces as they enjoy the meats we sell and the meals we prepare for them on our Lang Smoker Cooker.
I made changes to the business over time. We saw a need for catering. I started out cooking on a Big Green Egg. But as more customers came to us, I needed to upgrade to handle the growth of customers. It became obvious we needed a commercial smoker. Having the right equipment is really important.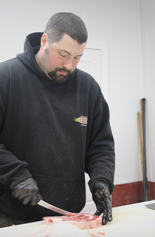 It worked out for me because of a friend.  George Rinaldi stopped in to buy some meats for his competition. I mentioned my need to go commercial, and that I was researching smokers. He said that he had a Lang 48 and that I could borrow it to see the value it would bring us. When George got back from competition, I was sold on the Lang. So, George picked up the phone and called Ben Lang, he yells over to me to pick up the phone and that Ben was on, wanting to talk with me. I'm in the busy time serving customers and I'm blown away that Ben Lang is on the phone. Obviously, I took the call and just like that, I ordered a Lang 84 Twin.
We saw a need to get out into the community, so we got our food truck out to bring food to the people instead of them coming to us. We were serving brisket, pulled pork and more, directly from the smoker to the customer. Another idea has worked well, we are cooking at several breweries, serving dinners right off the truck. During the height of the pandemic the food truck provided the revenue we needed, and now we continue serving on the truck. I really enjoy seeing people's faces when I pull up with the truck and set up.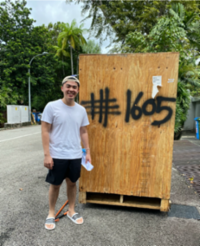 Seek Opportunity: Jett realized no one was doing offset smoking BBQ in Singapore. He already had cooking experience and wanted to create the authentic Texas BBQ taste. And with COVID-19 bringing the world to a standstill, he thought it would be a great way "to spread the love."
Curiosity: Long before getting into barbeque, Jett had been cooking actively from the young age of 10.  He was always curious about different cooking techniques. He cooked Italian (pastas and pizzas) and some wok-styled Chinese foods—experimentation helps!
Difficulty:  Fire management is the most difficult thing to master. How to get the temperature consistent throughout the cook. The easiest way is to get a huge fire going with small splits in order to build a charcoal bed. Then put in beer can sized logs. It will slowly smoke away.
Research: Business takes a lot more than cooking. Even cooking on the finest smoker, a Lang, isn't enough. You have to have a solid plan for your business. There's a lot of details and requirements to meet regardless of what country or city you're in.
Belief: Even if you have everything in place, without passion and belief in what you're doing, success will be limited. The big business question is: Why do I want to do this and am I willing to go all out?
Being Different Helps: Robbie has been cooking barbeque for friends and family and decided it was time to make a move. That was the beginning of building a barbeque business in the whole hog tradition. Robbie was the first in his area to serve all wood-fired beef. That's one of the factors that makes his business unique for customers. The flavor profile, as Ben Lang calls it, is what draws customers to his food trailer, a rolling barbecue restaurant.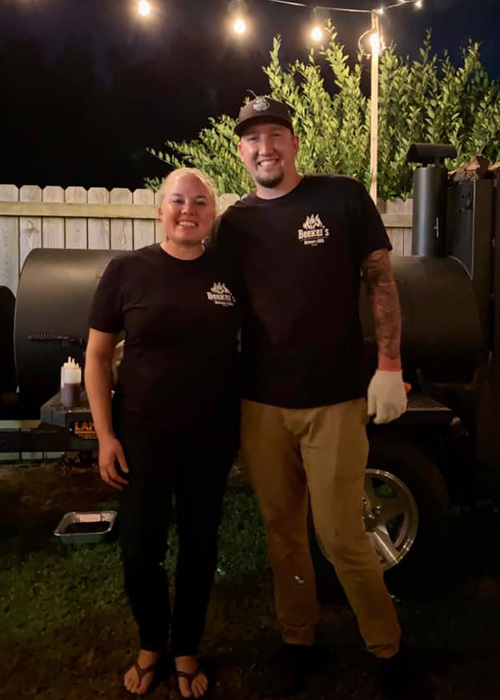 Challenge: Starting out, he faced the variables he could not control wind, rain, locating properly seasoned wood. But adding a new trailer, weather was no longer an issue."
Getting Started: At first, he was regularly cooking barbeque for family and friends. Before long, they started saying, "You should really start selling this." With that, he began taking small orders from friends and family.
It's About Quality: Shortly after he started, word of mouth really spread, and he was getting phone calls from strangers asking him to cook. Soon, it was too much for his little smoker. He couldn't keep up.
The Right Stuff:  Robbie did a ton of research looking for the best smoker he could possibly find. In his research, Robbie came across Lang Smokers. That was the only way forward.
Grow: You have to constantly learn and improve. Barbeque can be taken in so many different directions; so never stop learning. And you get to try great meat prep and ideas with the Lang Reverse Flow System. That really gives the meat a double portion of flavor. The sizzle of the juices hitting the reverse flow pan adds extra flavor to the meat.
Start Up: Cecil Abels III, started smoking back in 2005 when his dad opened a little restaurant/music hall in the small town of Carrollton, MS.  To their advantage, they used their current Lang 84D as the entire engine for the restaurant. "So, with Lang and experience, we were off and running."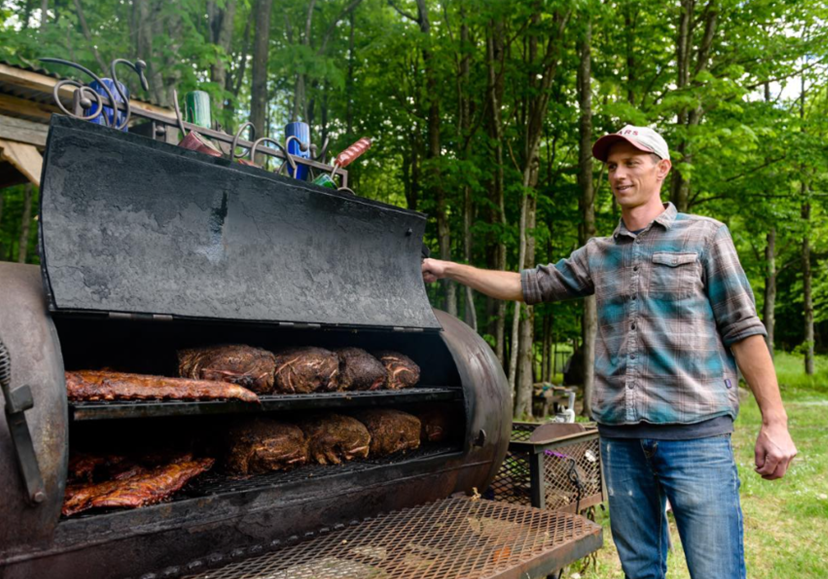 Uniqueness: In our area there are very few all wood powered smokehouses, and while some claim to use hickory, he guesses that most just use oak.  He uses oak and maple for the fire base and uses shagbark hickory (which grows locally) for infusing flavor. You have to know what opportunities are not being met.
Challenges: Managing rising costs across all fronts and staying on top of everything that goes into running a restaurant is now number one. But it's always number one, really.  Cecil started out as more front of house and general management, so the kitchen/back of house, has been challenging.
Find a Way: Starting out as a ghost kitchen catering business, he finally decided to take the leap to try and open his own restaurant in 2018.  After tons of planning, working with local business advisors and colleagues, he opened a ghost kitchen take-out operation in late spring 2022 after Covid killed his financing for a food truck.  He kept scouring for the right location and was able to finally procure the funds to launch a brick and mortar. Stay flexible.
Unexpected Pitfalls: The one thing that took him by surprise was some of the animosity from the only barbeque competition in town.  He was uncertain as to whether it came directly from the owners, but many townsfolk were quite opinionated and derogatory towards their opening for business.
Unfulfilled Opportunities: One other pitfall would be New England's familiarity, or unfamiliarity with professional with barbeque.  For a long time, barbeque meant backyard burgers and hotdogs, so the appreciation for what Cecil provides wasn't always understood.  They now have built-up some diehard fans, but it's taking longer than expected to build a customer base, which along with the rising cost of goods and materials (their building needed/needs some upgrades) has slowed down some of the growth projects and adding additional staff like he hoped to be doing already.
Getting Into the BBQ Business:  It helps to have experience running a restaurant or some kind of business, and plan, plan, plan!  Crunch your numbers, have a local SBA advisor review and critique, know how hard staffing will be in your area. You have to be realistic about how many hours it's going to take.  Details, certificates, licensing, and other requirements have to be in order. You must have the love and passion for it, it's no get rich quick scheme.
Driving Force:  It helps if you're already cooking and people are telling you to start a business of it. Brad was cooking barbeque for over 30 years. He started out with a $30 Kmart water smoker- cheap and flimsy, but he made great ribs!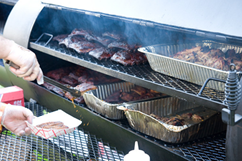 Something Special: Brad traveled all around the US from 1980-1992 as a merchandise manager for major rock bands. He ate barbeque in every town in America, probably 1,000 restaurants and dives. He created his own rubs based on his favorite flavors from that time, and they have proven very popular with his customers. Something you offer has to be unique or unusual in some way to separate you from others.
Starting Out: It began as a barbeque catering business in 2011 with his first Lang, an 84 Deluxe with chargrill. He had to abandon the business in 2013 when he went through kidney cancer and lost his left kidney. He retired in 2014, and by 2015 his wife wanted him out of the house. And with her encouragement he started Hubba's.
Productivity: Brad runs a 2-person operation in a 16 -foot cargo trailer converted to a commercial kitchen. He only opens Wed thru Sat, 16 hours a week, beginning of May to end of September. The menu is very limited- 4 meats and 3 sides. They only sell what Brad is best at making. This will be a shock to some people but in the off season he's a vegetarian. No meat for 7 months out of the year because he eats so much meat during the season. Don't think there are many vegetarian pit masters out there.
New to the Business?  First, location, location, location! Whether it's real estate or restaurants, you need a terrific location. They are fortunate enough to be in the parking lot of a florists surrounded by 5 high tech buildings filled with young employees who love barbeque for lunch. Second, test your recipes with neighbors, the police station, and the fire department (they love free food) and get their feedback- you want people to love your food. Third, keep your menu limited- don't try to cook everything for everybody. Do what you do best. If you expand your menu too quickly or too much, you will find you have too much money invested in inventory. Then that money is going in the trash as unsold food at the end of the day.
You need a goal.
Tim started his business during the post 9/11 recession originally to augment his income both through catering and BBQ sauce sales. His goal was to continue a family tradition started by his grandmother. Every business should have some driving force to move it along and keep it going even in tough times.
Experience helps a lot.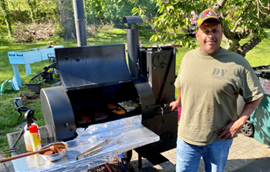 I started making BBQ as a young Army Officer around 30 years ago while stationed Germany. Since there was nowhere to get BBQ near the old east west German Border where I was stationed, I bought my first 'Smokey Joe' and made friends with the local butcher at the Metzgarei and have never stopped. I've made BBQ in everything from digging a hole in the ground to my Lang. My father is my partner in the sauce business.
Uniqueness.
Something has to be unique about what you do or offer. I come from a family of barbequers. My grandmother had a restaurant during the 50's known as Mattie's BBQ in Minneapolis MN. My father worked in her restaurant as did many of my family when they migrated from Jefferson GA. Her barbeque sauce was famous in the region and Kraft attempted to buy it from her, which she refused to sell. The sauce was passed to my father then passed to me and I make and sell her sauce to honor her legacy.
Location.
If they don't know you exist, they can't buy your products. Location is everything. We worked hard to make sure that everyone in Bulloch Co. knows where Hopeulikit is located. The tagline, "We know you will," is a statement of confidence by Kelly Anderson, and Kelly Lee, the owners of the business, along with their wives Violet Anderson and Melissa Lee.
You build on what you have.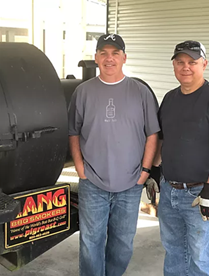 It all began as Anderson's Peach Station. Kelly's father, Jackie Anderson ran the business some two decades earlier.
Learn under pressure.
Kelly Lee recalls the early days, "Every competitive event we attended made us a little better. Then we started placing in different categories, and that led us to win at Tallahassee's PigFest, our first grand championship where we won the whole event."
What's different?
It was a natural step to move into developing their own line of four custom-blended sauces. Hopulikit offers four of their own sauces: Sweet &Tangy (KC style), Mustard Sauce (South Carolina style), Vinegar Based (Eastern NC style) and a white sauce called White Smoke.
Environment.
Attention to the food, the wood used, the meals and sauces was not enough. Their concept included creating an appropriate interior environment. They chose a Central-Texas, market style layout. When a customer enters and goes to the counter to place their order, they find that there's no plated special.
Start right.
I drove to Georgia to pick up my Lang smoker in my 4-Runner. I took the barbeque class with Paul Kirk, and from that class created my Original BBQ Rub. It ended up being the best rub I'd ever used. I shared it with friends. Increased demand had me making more and more of it. As much as I love my friends, at some point they had to start paying for it…and so the business began.
Experience.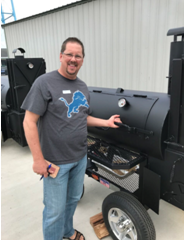 Jack has been in the food business most of his life. He's been an at-home backyard BBQ/Griller for decades and always loved to prepare and serve anything and everything that benefits from fire and/or smoke! Jack earned a degree in Food Service Management from Ferris State University in Michigan and he cooked in various hotels and independent restaurants back in the late 70's and early 80's.
Differentiation.
"When I worked in restaurants I would always experiment with flavors, upgrading a house sauce by adding spices to improve it. I spiced foods differently than I was trained and made them to my own liking. I created recipes for foods and make them wherever I could. When opening our coffee bar, I used the same process with coffee as I did with foods in restaurants – I ordered a bunch of coffees, experimented, tasted, and then created my own blends. "Jack's Blend" was our house blend coffee and it gained a cult following. That process is my process for creating my rubs and seasonings, and thus the name, and the process, is Jack's Blend.
Creativity.
Like many entrepreneurs, I have a drive to create new things, to bring products to market and love to serve people. When in the coffee business one thing that set us apart is summed up with a mantra I repeated over and over; "It's not all about the coffee, it's all about the people." Don't misunderstand…quality coffee is critical if you are in the specialty coffee business, but our focus had to be more on people than the product. Probably the easiest way to describe it is this: rather than inviting a customer to look at the coffee we had made them, we would look them in the eye while handing them a coffee made for them. Maybe a subtle difference, but it was about them, pleasing them, making them smile and serving them well. And my hope was the great coffee we made them brightened their day! You have to find creative ways tp draw customers and keep  them.
You have to want it.
"We started out in the backyard competition division and realized we enjoyed it so much that we decided to start our own catering company. I grilled for coworkers at the office and for friends and family."
Dedication:
"My wife Lydia and I both still work full time jobs and work on the food truck most weekends. We do; however, take the food truck out on some week nights when we have an invitation.  She prepares most of the sides and handles the finances. She is also going to school part time for a degree in business to help us on our journey."
Uniqueness.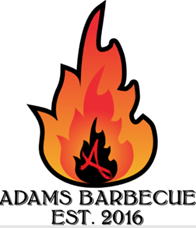 Eric says their cooking style makes them unique. Most, if not all, the major restaurants in town use gas assist or electric pits. They only use wood fired pits with a mixture of red and white oak. "I want to use something different from the others here in this area, they use hickory."
Starting out.
"We started out taking lunch plate orders from my wife's and my day jobs and it just grew from that. Our house was always the "hang out" house. We would always grill food, mainly wings, and would experiment with different types of food and flavors. At work, we would have monthly employee appreciation luncheons and somehow, I was always on the grill. We decided to run a mobile unit that travels from site to site in Nashville. We don't have a restaurant, so all of our food prep is done in a commissary/shared kitchen and cooked on our Lang. We offer catering but most of our work is done at pop up events and breweries."
Handling challenges.
"Our biggest pitfall is the amount of capital or credit needed to purchase equipment to get started with. And most of the time you don't know what you need until you need it. Plus dealing with the licenses and other state and local regulations. Setting up the right bookkeeping and so on. Lots of details there."
Preparation.
"I recommend that newcomers do as much research as possible on the local codes before purchasing a mobile unit. Because it will save time and money on inspections and modifications. The last thing you want is to get a business going and then find out you are not in compliance and that will set you back time and money wise. The business part you can learn but the  key is, above all, you really have to love to cook and bring people real satisfaction in what you are making. If you do that, your BBQ business will do well."