Beeker's Brisket & BBQ
Greenville, North Carolina
Greenville, NC has been named among the top ten of the country's Best Small Places For Business And Careers by Forbes magazine and again in 2010 Forbes ranked it twenty-fourth in mid-city business growth and development.
Downtown Historic District
Greenville is also known as "BMX Pro Town USA," being home for many top professional BMX riders. It's a beautiful town in scenery, people and great food especially if you head over to Beeker's Brisket & BBQ. That's where you'll find Robbie Beeker living out his passion for amazing barbeque. Although he is an extremely busy guy, we did get the opportunity to chat with him about his business.
In the beginning:
Robbie worked at several different jobs but became disillusioned working in positions he simply felt no passion for. He had been cooking barbeque friends and family and decided it was time to make a move. That was the beginning of building a barbeque business which is sizzling today. In Eastern North Carolina where he lives, the whole hog is tradition. Robbie was the first in the area to serve all wood-fired beef. "That's one of the factors that makes my business unique for customers. The flavor profile, as Ben Lang calls it, is what draws customers to my food trailer; a rolling barbecue restaurant."
One of his challenges in starting out:
"Starting out I faced the variables I could not control. Wind, rain, locating properly seasoned wood. But with the addition of our new trailer, weather is no longer an issue."
We asked Robbie how he went about getting his business going: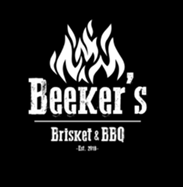 At first, he was regularly cooking barbeque for family and friends. Before long, they started saying, "You should really start selling this." With that, he began taking small orders from friends and family.
"Shortly after I started, word of mouth really spread, and I was getting phone calls from strangers asking me to cook for them. Soon, it was too much for my little smoker. So, I did a ton of online research looking for the best smoker I could possibly find."
In his research, Robbie I came across Lang Smoker Cookers and they happened to be offering a Q-School class (June 2019). "I decided to make the trip to GA for the class because I wanted the opportunity to cook on a Lang and see the results for myself, before making a purchase. I attended the hot and fast class on Friday."
Robbie traveled home Saturday morning and placed his order for and Lang 84 Deluxe with Chargrill. "I liked the amount of space, and the addition of the chargrill is great for kids who only eat hamburgers and hot dogs." When the 84 arrived, he created a Facebook page and started posting pop up cooks. Things just grew from there.
Robbie with Ben Lang. Hooked up and ready to take her home.
"Now have the 84 Deluxe with chargrill and the 84 Fat Boy Deluxe in our food trailer. We load them both down with meat regularly to meet the needs of our customers."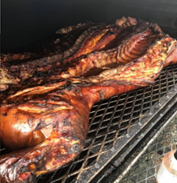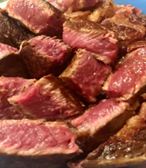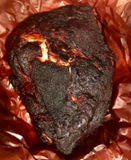 Did you have any specific problem related to cooking?
"Finding seasoned wood was nearly impossible. I finally developed a rotation of wood piles, so I always have some seasoning behind my burn pile."
What would you recommend to someone new getting in the business?
"Don't rush it. Let your business develop at its own pace. We were extremely patient throughout this pandemic before pulling the trigger on the trailer. We made sure we had a following and consistently good food before making the leap."
What is your main goal as a chef?
"To constantly learn and improve. BBQ can be taken in so many different directions. I hope to never stop learning. And you get to try great meat prep with the Lang Reverse Flow System that really gives the meat a double portion of flavor. The sizzle of the juices hitting the reverse flow pan adds extra flavor to the meat. I cook with pecan wood only."
What are the favorite meals you like to prepare?
Baby Back Ribs, Pork Belly, Burnt Ends, and any type of smoked fish are all family favorites.
The whole hog.
Are you in competition?
"No, the ones we signed up for last year were canceled due to covid, but we plan on doing a few in our area this year."
What can you share about the BBQ community as a whole?
"The BBQ community is extremely diverse which makes it very unique. Each region does bbq differently. Different wood, different smokers, different flavor profiles, different traditions. Through all those differences, we all have one common goal…Good Q!"
Couple hours in on some St. Louis style ribs.
Can you share a recipe?