Hubba's Real Pit BBQ
The Town of Westford, Massachusetts, just outside of Boston, is a lovely place, with idyllic rolling hills, apple orchards and lakes. The town's past was mostly farms and wool mills. Today it retains that beautiful visual legacy and is also known for high tech; a good working relationship for all. They hold an annual Apple Blossom Festival known for its crafts and strawberry shortcake.
Westford Common on Main Street
While you walk around and explore, it's likely you will catch a distant hint of aroma wafting through the air. That will be coming from Hubba's Real Pit BBQ on Littleton Road, only 2 miles away from the Commons. Brad Hudson, founder and Head Honcho opened his business five years ago. We were finally able to catch up to Brad and asked him about his business and the Lang that fires it up.
Lang: How did you come up with the name, Hubba's Real Pit BBQ?
BH: Hubba has been my nickname since first grade, and I'm 63 now.
Lang: What drove you to start this business?
BH: Love of BBQ. And everyone who tasted my BBQ told me BH: "You should start a business!"
Lang: Were you cooking/BBQing before you started in business?
BH: Yes, I've been cooking BBQ for over 30 years. Started out with a $30 Kmart water smoker- cheap and flimsy but it made great ribs!
Lang: Do you have a partner?
BH: My son Robbie, who is currently in college, is my partner. I'm teaching him the ropes so he can take it over and build the business.
Brad with his son Robbie who is 6' 8"
Lang: What would you say makes your business unique?
BH: I traveled all around the US from 1980-1992 as a merchandise manager for major rock bands. I ate BBQ in every town in America, probably 1,000 restaurants and dives. I created my rubs based on my favorite flavors from that time, and they have proven very popular with my customers.
Lang: How did you go about starting the business?
BH: I began a BBQ catering business in 2011 with my first Lang, an 84 Deluxe with chargrill. I had to abandon the business in 2013 when I went through kidney cancer and lost my left kidney. Then I retired in 2014, and by 2015 my wife wanted me out of the house, so with her encouragement I started Hubba's.
Lang: Can you tell us about your business with some detail?
BH: I am a 2-person operation in a 16 -foot cargo trailer converted to a commercial kitchen. I am only open Wed thru Sat from 11am-3pm (16 hours a week) during our season- beginning of May to end of September. My menu is very limited- 4 meats and 3 sides- I only sell what I am best at making. This will be a shock to some people but in the off season I am a vegetarian. No meat for 7 months out of the year because I eat so much meat during the season. I don't think there are many vegetarian pit masters out there (laughs).
Lang: What were the pitfalls you didn't expect when you went in business?
BH: Not sure if this qualifies as a pitfall, but the things that I have no control over. Example- our town has banned Styrofoam and Styrofoam-based products, along with plastic bags. When these two rules went into effect, I found it increased my costs.
Lang: What would you recommend to someone new getting in the business?
BH: First, location, location, location! Whether it is real estate or restaurants, you need a terrific location. I am fortunate that I am in the parking lot of a florists surrounded by 5 high tech buildings filled with young employees who love BBQ for lunch. Second, test your recipes with neighbors, the police station, and the fire department (they love free food) and get their feedback- you want people to love your food. Third, keep your menu limited- don't try to cook everything for everybody. Do what you do best. If you expand your menu too quickly or too much, you will find you have too much money invested in inventory. Then that money is going in the trash as unsold food at the end of the day.
Brad prepping another meal on his Lang                Cooking with local oak
Lang: When did you first purchase a Lang–what model and why?
BH: In 2009 my then current smoker, a small offset, rusted out. I asked my wife for permission to purchase a new one, and she graciously said yes, thinking I was going to by something similar. While researching my new purchase, I ran across the Lang website, and I was hooked immediately. I called Ben and ordered an 84 Deluxe with chargrill. He called in March 2010 to tell me it was ready, so I told my wife I was going to pick up my new smoker the next day.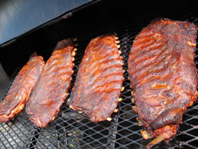 Close your mouth, it's watering!
She asked me if I was going to Home Depot to get it, and I said "No, I'm going to Nahunta, Georgia and I will be back in 3 days." She did not take it well until I returned and cooked my first racks of ribs; she loved them! Those ribs saved my marriage!
Lang: What Lang are you using currently and in what way?
BH: I only use my Lang 84 Deluxe (my 3rd Lang) in my business. I use it to cook my ribs and chicken leg quarters every morning. I use no seasonings at all on my chicken and my customers tell me it is the best tasting chicken they ever ate. Nothing can replicate that Lang taste.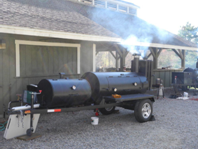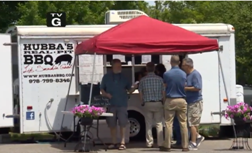 The Lang hard at work               Customers gathering to eat and chat
Lang: What features do you like best about Lang?
BH: The fact that it is, as Ben says, "a smoker/cooker." When those juices hit the reverse flow plate and sizzle their way back up into the meat, oh man that creates a taste like no other. I teach a backyard pit masters class several times each summer.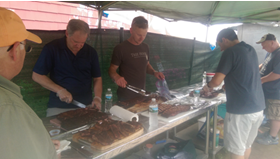 Student cutting ribs at my BBQ cooking school.
Each student makes 2 rubs from scratch, then I give each of them 2 racks of ribs to apply their rubs to, and we cook them in the Lang and take them out at the end of the day. Everyone cuts up their ribs and shares with the other students. Very popular!
I always have one or two of my students tell me they ordered a Lang after I showed them what it does and how to use it. The clincher is when each student cooks 2 racks of ribs on the Lang using rubs they create in class- they get to taste their ribs right out of the Lang, which is a great experience for them.
Brad and his wife Karen serving customers
Lang: What is your main goal as a chef?
BH: I don't consider myself a chef- I was in the concert merchandise business for 35 years. I cook for myself. I am fortunate that I have what I consider to be a "common palate", meaning that what I like, everyone seems to like.
Lang: What are the favorite meals you like to prepare and why?
BH: I love taking thick (1 ½") strip steaks, season heavily with salt, garlic salt, and black pepper, and toss them on a very hot grill (600 degrees plus), get a good char on the outside so the inside is a nice uniform red- Pittsburgh rare. Add homemade mashed potatoes and a green salad and that's all I need.
Lang: Are you in competition?
BH: I no longer do competitions. It has become way too expensive for a one-man team to do competitions. Plus, the competition season conflicts with my business season.
Ribs in a pan ready to go
Lang: What projects are you currently working on?
BH: Looking for a good brick and mortar location. It has to be a stand-alone structure, smallish (6-7 tables), rundown looking- smoky, sawdust on the floors, barrels of peanuts in the corners, old posters of blues legends on the walls, with old blues playing thru the stereo.
Lang: What can you share about the BBQ community as a whole?
BH: I love the fact that the BBQ community is one of the nicest bunch of folks you could ever meet.
Lang:  Can you share a recipe with us?
BH: I'm happy to do so. Here are the details but there isn't a current photo. Here's the ingredients for my Santa Maria Tri Tip rub:
2 tbsp kosher salt
2 tbsp granulated garlic
1 ½ tbsp brown sugar
1 tbsp black pepper
2 ½ tbsp fine grind coffee
½ tsp cinnamon
½ tsp cayenne pepper (optional)