North Elm Butcher Block
Westfield is a city in Hampden County, in the Pioneer Valley of Western Massachusetts, and was first settled in 1660. The area was originally inhabited by the Pocomtuc tribe. From its founding until 1725, Westfield was the westernmost settlement in the Massachusetts Colony.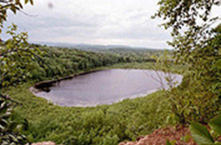 View of Snake Pond and the Westfield countryside from East Mountain.
Early in the 19th century, the manufacture of bricks, whips, and cigars grew to an incredibly important economy. Westfield was a prominent center of the buggy-whip industry, and the city is still known as the "Whip City." Some of the places to visit include Amelia Park Ice Rink and Memorial Garden, Stanley Park of Westfield, the United States Whip Company Complex and Stanley Park of Westfield.

There is also another place that holds a wonderful history.  If you go to 34 North Elm Street, you'll find North Elm Butcher Block, currently run by Dan Puza Jr.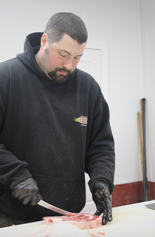 In the fourth generation.
In 1947 his great grandfather founded the business. It carried on to his grandfather, Dan's father and has remained in constant operation as Dan is about to take the business to the fourth-generation level. We spent some time with Dan to learn more about the business. Dan spoke about his background in the family business: "Since I was eight years old, I knew exactly what I wanted to do when I grew up; follow in the family footsteps of my Great Grand Father, Grandfather, Father and Uncle who have all owned and operated The Butcher Block. They instilled in me a commitment of excellence to bringing Westfield the best meats, seafood, and deli with excellence in customer-first service. I am so incredibly proud of what my family and team of employees have built in our store and our community. I could not have done it without them. It's also true that we couldn't have done any of this without our incredibly loyal customers who have all become part of our extended family. Their loyalty has supported our ongoing business."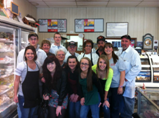 The Puza Team
Lang: When did you start cooking?
DP: Early on I watched and learned step by step on my own. I fell in love with creating meals. There's nothing like watching people's faces as they enjoy the meats we sell and the meals we prepare for them on our Lang Smoker Cooker.
Lang: What changes did you make in the business?
DP: We saw a need for catering. I started out cooking on a Big Green Egg. But as more customers came to us, I needed to upgrade to handle the growth of customers. It became obvious we needed a commercial smoker.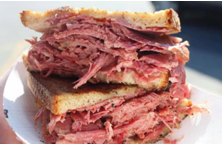 Corned beef delight.
Lang: What did you do next?
DP: George Rinaldi, a friend, stopped in to buy some meats for his competition on his Lang 48. I mentioned my need to go commercial, and that I was researching smokers. George said that he had a Lang 48 Smoker Cooker and that I could borrow it to see the value it would bring us. When George got back from competition, I was sold on the Lang. So, George picked up the phone and called Ben Lang, he yells over to me to pick up the phone and that Ben was on, wanting to talk with me. I'm in the busy time serving customers and I'm blown away that Ben Lang is on the phone. Obviously, I took the call and just like that, I ordered a Lang 84 Twin in 2018.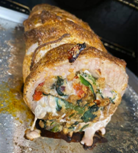 Stuffed pork loin with choice of garlic roasted potatoes or sweet mashed potatoes.
Lang: How did it work out?
DP: Well, the Big Green Egg was so limiting and with the Lang I'm doing 60 to 100 ribs and brisket and more per week. Production is amazing. That's important when you're catering events. At one party I had to put through 685 briskets and ribs, and my Lang 84 handled it easily!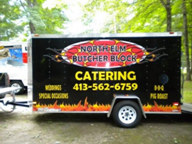 Lang: Like most other businesses you were hit by the pandemic.
DP: Yes. We saw the need to get out into the community, so we got our food truck out to bring food to the people instead of them coming to us. We were serving brisket, pulled pork and more, directly from the smoker to the customer. Another idea has worked well, we are cooking at several breweries, serving dinners right off the truck. During the height of the pandemic the food truck provided the revenue we needed, and now we continue serving on the truck. I really enjoy seeing people's faces when I pull up with the truck and set up.
Lang: Can you talk a bit more about some of the meals you serve most often?
DP: We mix things up and try new combinations. I worked up a Tex-Mex combo and I like doing some retro sandwiches as well. The Hillbilly Sunday is a big favorite.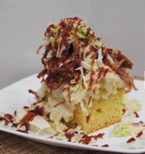 Hillbilly Sunday. Corn bread, pulled pork, mac & cheese, coleslaw, topped with sauce.
dribbled on top. Yes, your mouth is watering now!

Prime rib with scalloped potatoes coming up.
Lang: Any major pit falls you dealt with?
DP: Aside from the pandemic, no. No real surprises as I was in the business since childhood. If something came up, we would handle as a family.
Lang: Being in New England how does weather affect your BBQ truck service?
DP: This is another advantage of the Lang Smoker Cooker. I get the same consistent results throughout the seasons. I lean toward using hickory wood, and sometimes apple or other fruit wood for pork.
Lang: What about the Reverse Flow feature?
DP: There's no comparison to any other smoker or grill—None! I get that crispy bark on the meats I cook, and the Lang never loses heat so I'm consistent.  And take brisket for instance. Typically, brisket loses a third of its weight while being cooked, My Lang, it holds the weight, the reverse flow seals it exactly right.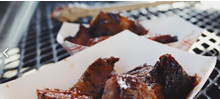 Lang: So, you are happy with your Lang?
DP: Happy? I'm way beyond happy. I'm about to purchase a second Lang.
Lang: Any insights on the overall barbeque community?
DP: Great people, extremely open to help. We learn from one another that way. They are always willing to be supportive.