Rochester, New Hampshire is known as the Lilac City. It's the largest city in the seacoast region and fourth-largest city in the state. Rochester serves as a gateway to the Lakes Region, the White Mountains, and the Seacoast. Rochester enjoys many of the conveniences of a prospering city combined with the delights of small-town New England traditions. Family values, strong work ethic, and lasting community spirit sustain the pride among residents and businesses in Rochester. It's been consistently ranked among the 10 best places to live in America. And it's in this best place to live, on Main Street, that you'll find the best barbeque: Mr. Sippy BBQ, owned by Cecil Abels III. Cecil shared his thoughts on the business with us.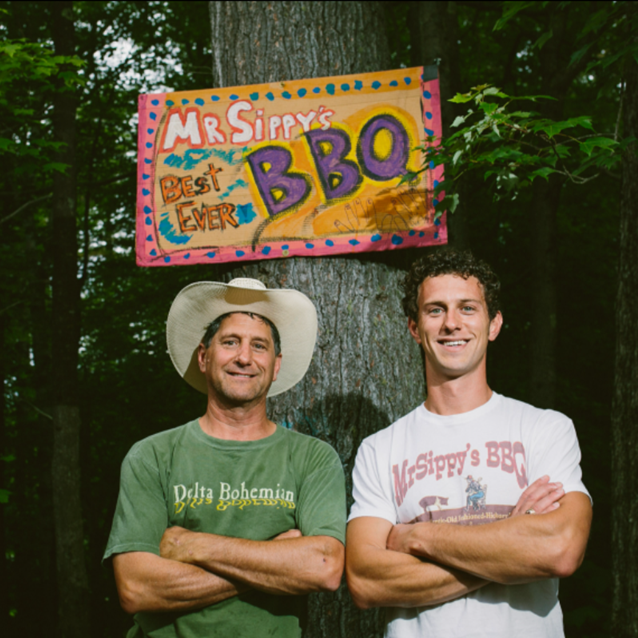 Cecil II, the original Mr. Sippy and Cecil III
Lang: How did the name of your business come up?
CA: My father, Cecil II, has used Mr. Sippy as a nickname since the early 90's and I thought it was catchy for a barbeque joint in New England.
Lang: What would you say got you interested in starting this business?
CA: Years in the food industry and working my way up the management ladder, I finally decided to put in the crazy hours for myself instead of someone else.  I get to combine my love for cooking with fire and smoke and welcoming people into my "home" to eat, drink and enjoy arts and music.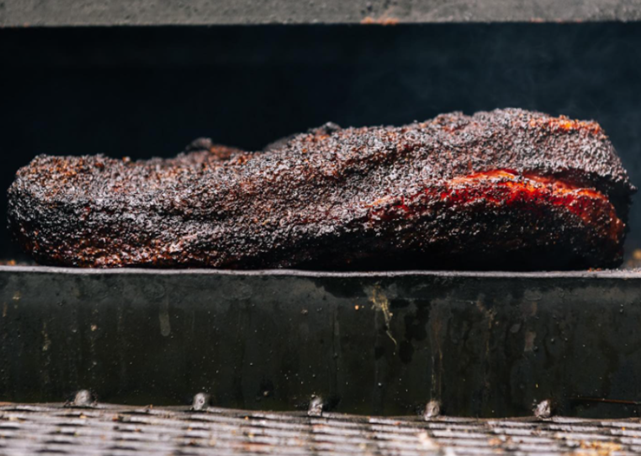 Is your mouth watering yet?
Lang: Before you started, were you already cooking barbeque?
CA: Yes. I started smoking back in 2005 when my dad opened a little restaurant/music hall in the small town of Carrollton, MS.  We used our current Lang 84D as the entire engine for the restaurant.
Lang: Are you in business with any partners?
CA: I have 3 minority, silent partners.
Lang: If someone asked you what makes your business unique, what would you say?
CA: In our area there are very few all wood powered smokehouses, and while some claim to use hickory, my guess is that most just use oak.  We use oak and maple for the fire base and use shagbark hickory (which grows locally) for infusing flavor.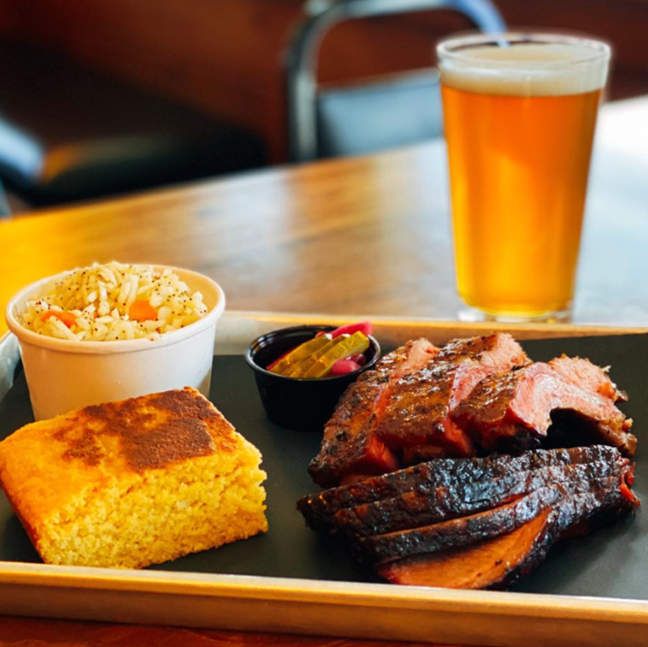 What delicious looks like
Lang: In terms of running your business, what's most challenging?
CA: Managing rising costs across all fronts and staying on top of everything that goes into running a restaurant.  I was more front of house and general management, so the kitchen/back of house, has been probably the most challenging aspect.
Lang: What is your actual facility?
CA: We have a brick and mortar restaurant.
Lang: How did you go about starting the business?
CA: Started out as a ghost kitchen catering business.  I finally decided to take the leap to try and open my own restaurant in 2018.  After tons of planning, working with local business advisors and colleagues, I opened a ghost kitchen take-out operation in late spring 2022 after Covid killed my financing for a food truck.  I kept scouring for the right location and was able to procure the funds to launch our brick and mortar in August 2021.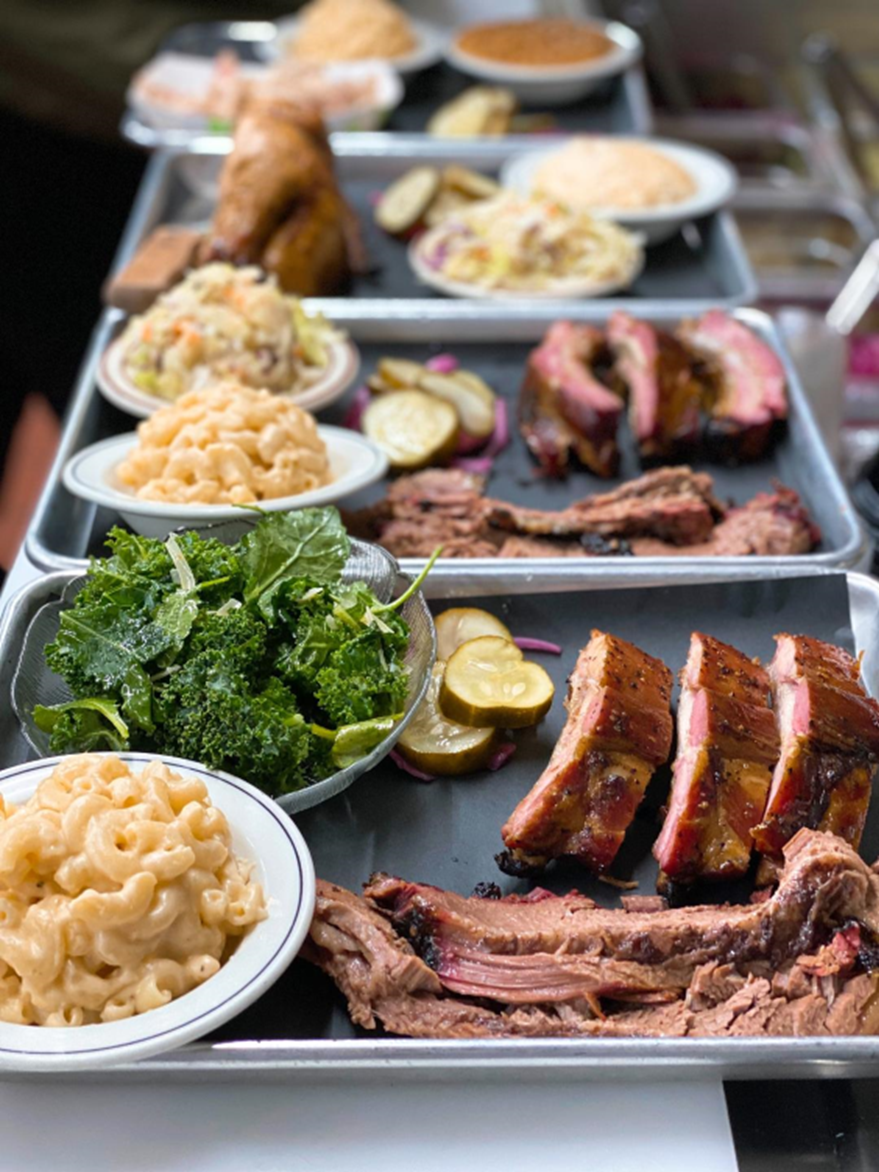 A whole tray of love
Lang: What were some of the pitfalls you didn't expect when you went into business?
CA: Having worked in restaurants on and off for 24 years, nothing particularly surprised me, even in the times of Covid. The one thing that took me by surprise a little, might be the animosity from the only barbeque competition in town.  I don't know that it came directly from the owners, but many townsfolk were quite opinionated and derogatory towards our opening.  One other pitfall would be New England's familiarity with barbeque.  For a long time that meant backyard burgers and hotdogs, so the appreciation for what we do isn't always understood.  We have some diehard fans, but it is taking longer than expected for us to build our customer base, which along with the rising cost of goods and materials (our building needed/needs some upgrades) has slowed down some of the growth projects and adding additional staff like I'd hoped to be doing already.
Lang: What would you recommend to someone new getting in the business?
CA: Don't!  But seriously, I hope you have experience running a restaurant or some kind of business, and plan, plan, plan.  Crunch your numbers, have a local SBA advisor review and critique, know how hard staffing will be in your area, or be realistic with yourself about how many hours it's going to take.  You must have the love and passion for it, it's no get rich quick scheme.
Lang: When did you first purchase a Lang and why?
CA: My father purchased our Lang in 2004, because he'd heard they were the best stick-burning off-set smokers out there. We use our Lang 84D and a 36" for tofu and vegetables.  We use the smoking cabinet on the 84 with ice pans to smoke cheese and look forward to doing some seafood on it as well.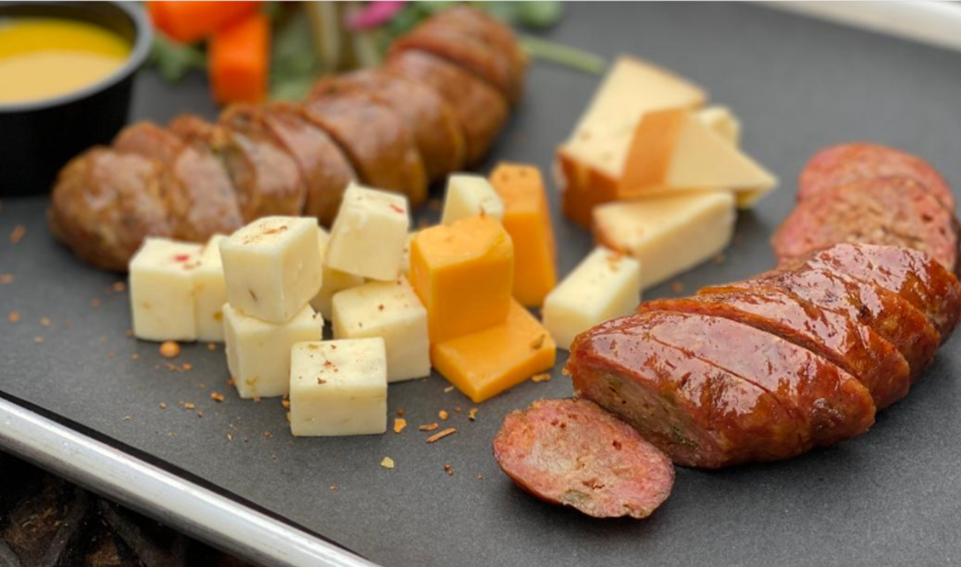 Smoked cheese in good company
We smoke our cheese (cheddars, Gouda) in the holding cabinet and we put a deep hotel pan of ice below them to get closer to cold smoking the cheese so they don't melt and separate.
Lang: What features do you like best about Lang?
CA: The reverse flow and fire plate create the best smoking environment for all types of barbeque.  I've never used other brands for any length of time, but I know the results we get with our Lang. And I've heard others talk about the pitfalls of their smokers and can't imagine that everyone wouldn't be happier on a Lang.
Lang: What is your main goal as a chef?
CA: Serve consistently great hickory smoked barbeque while minimizing waste so we can turn a profit.
Lang: What are the favorite meals you like to prepare?
CA: Baby back ribs and collard greens are my favorite in the restaurant.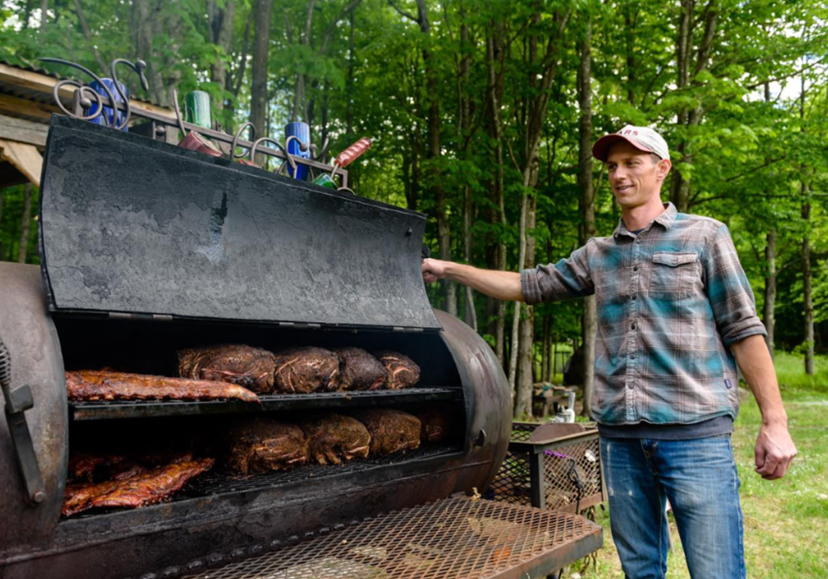 Working the smoke
Lang: Are you in competition?
CA: No competitions to this point.
Lang: What can you share about the BBQ community as a whole?
CA: Having not been involved in the organized barbeque scene my experiences are more from the restaurant sector as a whole, but all my colleagues have been extremely supportive and intrigued as most of them haven't cooked using our all wood fired style.
Lang: What type of wood do you favor when cooking?
CA: Shagbark hickory (our local hickory varietal) and maple.
Lang: Can you share a recipe with us and include a photo as well?
CA: Hush Puppies (click on the link for recipe)