Hopeulikit BBQ & Market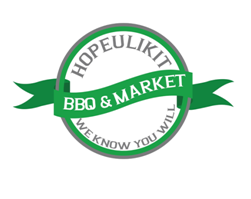 Statesboro, Georgia is the largest city located in the southeastern part of the state. The city was chartered in 1803 and began as a small trading community offering staples to the area. That dedication drove the economy right through the 19th century, both before and after the Civil War. Statesboro inspired many blues songs such as the famed, "Statesboro Blues." The better-known version of the song was recorded by the Allman Brothers Band. Today the only "blues" you'll be singing in Statesboro is by missing out om the barbecue available at Opelika BBQ & Market.
When asked about their business name, Kelly Lee put it this way, "homelike pronounced Hope U like it, is a small unincorporated area of Bulloch county Georgia located about 5 miles west on Hwy 80 of Statesboro, Ga. Home of Georgia Southern University. Everyone in Bulloch Co knows where Hopeulikit is located. The tagline, "We know you will," is a statement of confidence by Kelly Anderson, and Kelly Lee, the owners of the business, along with their wives Violet Anderson and Melissa Lee. It all began as Anderson's Peach Station. Kelly's father, Jackie Anderson ran the business some two decades earlier.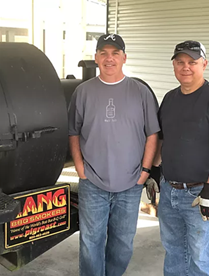 Kelly Lee (L) Kelly Anderson (R)
The Peach Station sold Georgia peaches and offered antiques as well. The stand closed sometime in 2010 and remained vacant and unused while remaining in the Anderson family. Kelly and Kelly were already friends and launched Hopeulikit together. It was their step into the unknown. This giant step took Lee away from his window cleaning and pressure-washing business that is now run by a manager, and Anderson came out of 25 years with Georgia Pacific.
The Kellys brought in Matt Lee as their pit master at Hopeulikit. He recently assisted the Lang BBQ cook team with famed BBQ pit master, Darryl Strickland, to win a Grand Championship.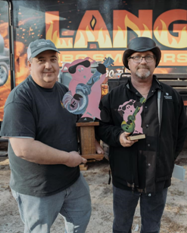 Matt Lee with Darryi Strickland at Grand Championship
Preparing for the future
It started when Kelly Lee's brother Matt asked him to go with him to a barbeque competition. The visits to these competitions brought hands-on learning. The added value was that Matt had won a Grand Champion himself, so the lessons were more complete. That opened the door to the business when Kelly Anderson suggested they set up shop at his property, the old Peach Station building.  It turned out that Matt had experience in the barbecue business, having owned a BBQ joint called, Smoke Rising BBQ. From there they were off and running and are still running at speed serving amazing barbeque to loyal customers while keeping up with competitions. In 2013 Kelly and Matt won the Grand Championship at the "PigFest" in Tallahassee.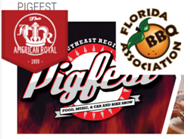 Some of the points they made regarding starting a business included, marketing research, legal requirements, the cost and time you need to put in because cash flow it critical. Another key is understanding what the customers want. This type of business calls for a real commitment of full-time attention every day, every week.
Making business sizzle with the Lang 108!
One of the factors that led both Kelly and Kelly to choose a Lang Smoker Cooker was the research they did. They quickly came to realize that every product Lang designs is made by people who really understand smoker cooker requirements and advantages. They have created smoker cooker models designed for every category of use: backyards, competition, and commercial use.
Plus, the reverse flow gives meals a flavor profile that is a consistent, unsurpassed flavor profile. They only cook with oak and pecan woods. "We purchased a Lang because of using one in competition. My brother and I, who is our pit master, started competing in 2011 and found that Lang BBQ smokers produced a far better product more consistently than any other smoker we tried. Our Lang 108 smoker is fuel efficient and lets us go low and slow or hot and fast," Kelly stated. "And you always have a really dedicated group at Lang that will support and stand behind you."
A step beyond the meat
Kelly Lee recalled the early days, "Every competitive event we attended made us a little better. Then we started placing in different categories, and that led us to win at Tallahassee's PigFest, our first grand championship where we won the whole event." It was a natural step to move into developing their own line of four custom-blended sauces.
Hopulikit offers four of their own sauces: Sweet &Tangy (KC style), Mustard Sauce (South Carolina style), Vinegar Based (Eastern NC style) and a white sauce called White Smoke.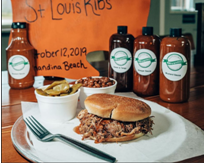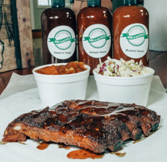 Attention to the food, the wood used, the meals and sauces was not enough. Their concept included creating an appropriate interior environment. They chose a Central-Texas, market style layout. When a customer enters and goes to the counter to place their order, they find that there's no plated specials.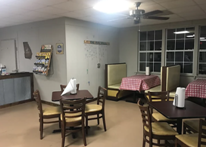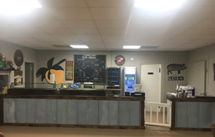 Customers order by quarter pound, half pound and pound. Sides such as baked beans, Brunswick Stew, mac and cheese, potato salad and of course, coleslaw are offered. Hopulikit specializes in pulled pork, pork ribs, chicken, brisket and sausage.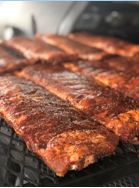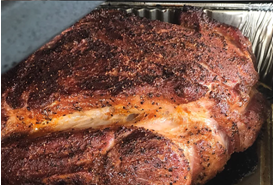 Each selection can be accompanied by dessert, such as peach cobbler with ice cream —but the key is that it's all prepared in the smokehouse.
The secret ingredient is their Lang 108 Twin Smoker Cooker with attached char-griller that is housed in the smokehouse, constructed on the far end of the restaurant.
The smokehouse has a garage door allowing them to remove the Lang for travel to competitions and other events.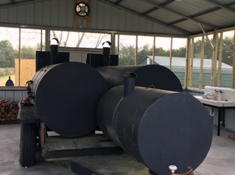 Always ready to roll out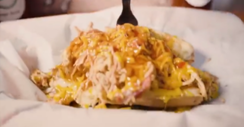 Talk about Out of The Box!  Pulled pork baked potatoes. Is your mouth watering yet?
Kelly says. "Our favorite recipe is our Hopeulikit Rub that we use on everything we do. It's even good on a Krispy Kreme doughnut. It consists of Paprika, granulated garlic, pepper, salt, sugar and brown sugar with a lot of HOPE!"
One thing is certain, these guys don't need hope, because what they do is already successful. Let's just Hope They  Keep Doing It!