Sweatin' Hogs BBQ
Fresno is a major city in the San Joaquin, California. It is one of the safest cities to live in with one of the lowest crime rates in California. It is one of the most diverse cities in California and in the U.S. Fresno is a friendly community with cultural diversity and is also a family-friendly city with excellent educational quality and many fun things to do for the family. It's the  fifth-most populous city in the state and the 34th-most populous city in the nation. Originally founded in 1872 as a railway station. That's where you'll find Sweatin' Hogs BBQ, owned by Orin Stuckey. Orin developed the company name based on the stage of barbecuing–that's when you apply a rub to meat and wait for the meat to sweat so he called it Sweatin' Hogs since sweating cows didn't have a good ring to it.
Lang: What drove you to start this business?
OS: My main reason was because of friends and family that eat my barbecue and stressed how good it was and that I should start a restaurant. After years of hearing that I decided to start a small business and that was the main reason.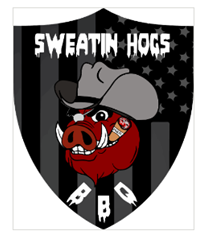 Lang: Were you cooking/barbequing before you started?
OS: Oh yeah, I've been barbecuing since I was a teenager.
Lang: Do you have a partner?
OS: Well yes and no, my wife helps out from time to time but legally she is my partner.
Lang: Share a little about what makes your business unique.
OS: Well, I think the thing that makes us different is our consistency and ability to make a competition style barbecue every single time. That taste and texture that is consistent. Customers expect that.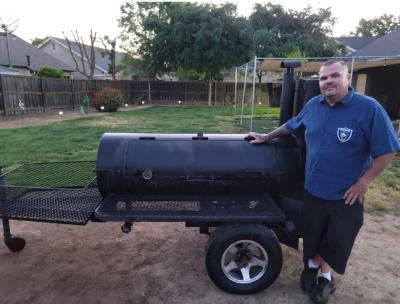 Lang: What would you say is most challenging about running your business?
OS: Preparing large amounts of food as well as trying to prepare side dishes while maintaining the pit. It all has to work together.
Lang: Do you have a restaurant, a food truck or other?
OS: We are a catering company. We focus on smaller parties of 100 or less. This is mainly due to my pit size but we might be upgraded to a bigger Lang in the future.
Lang: How did you go about starting the business?
OS: I did a catering gig for a friend and after the party I was asked by some of the party goer's if I could host parties for them. Then it just took off from there.
Lang: Tell us a little more about the meal side of your business.
OS: We are a small catering company focused on bringing great barbecue to people. We barbeque brisket, beef ribs, tri tips, pork shoulder, spare, St Louis, and baby back ribs–also turkey and chicken as well as side dishes.
I have developed two sauces. My first one is a BBQ sauce that's got some sweetness, some tart for the apple cider vinegar, and it finishes off with a little heat– nothing crazy but it's my number one seller. We call it Lil Louie spit. My other sauce is just a sweet sauce. I made it for kids it's got a pomegranate flavor and we call it Dutchess Sweet Sauce. It's not a tomato-based sauce. I have three more sauces in the works. I'm just trying to fine tune them with the right seasoning.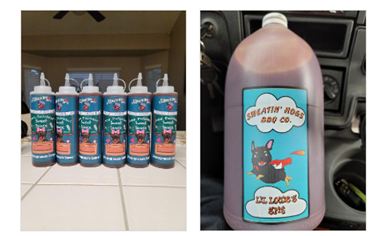 Lang: What were the pitfalls you didn't expect when you went into business?
OS: The biggest problem would have to be trying to purchase a large number of cuts of meat and the supplier is almost out of it. I try to get everything from one supplier, but sometimes I have to go elsewhere. Planning is real important.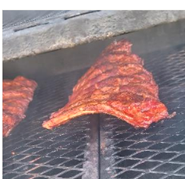 Lang: What would you recommend to someone new getting in the business?
OS: Try doing small parties. Don't jump into a big party quickly, get used to making 3 to 8 cuts of meat at once. It's also timing–know when to start cooking side dishes so you can serve everything fresh and hot. Attention to many details.
Lang: When did you first purchase a Lang?
OS: I purchased my Lang in July 2020. It was a used unit I picked up from a guy who drove from California to Georgia. So, I'm the second owner of a Lang 60" Deluxe. I use it for smoking meats and making smoked side dishes.
Lang: What features do you like best about Lang?
OS: I love the reverse flow technology. I believe it's the best way to smoke meat. The fact that the plate of steel heats up evenly is probably one of best ways to get a consistent temperature that makes smoking easy. It's the best way to smoke meats. I've cooked on stick burners and drum smoker pellet grills, and they're good, but the best way to smoke is reverse flow and Lang is the king of reverse flow.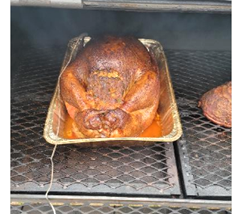 Lang: What is your main goal as a chef?
OS: To make the best tasting barbeque for my customers. I'm also looking to start doing some competition cooking. I just want to make great tasting food.
Lang: What type of wood do you favor when cooking?
OS: I mostly use oak white or post and maybe some fruit wood sometimes. I use them in combination.
Lang: What are the favorite meals you like to prepare and why?
OS: Brisket, baby back ribs, and Mac and Cheese. Brisket, because it's always a challenge and tastes amazing when done right. Baby back ribs because they taste great and Mac and cheese because of all the different types of cheese you can use.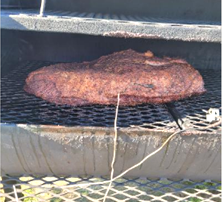 Lang: Are you in competition?
OS: No not yet but soon.
Lang: What can you share about the BBQ community as a whole?
OS: I've shared some tips and I know others have shared tips with me, but all in all most of the barbeque community is very helpful and are great people.