Bellevue, Tennessee is a neighborhood of Nashville. During the 1950s it was a small community that served the needs of farms in the area. The town was located along the railroad tracks.
Bellevue has become a popular destination for nature lovers. It offers several attractions such as the massive Warner Parks featuring miles of trails for hiking and cycling. There is also the Harpeth River Greenway, and access to the multi-state recreational highway known as the Natchez Trace Parkway. Bellevue also holds a distinctive aroma coming from Blinkys Offset BBQ. We had the opportunity to talk with Matthew Osman, Sr.at Blinkys. He shared some thoughts on the barbeque business with us.
Matthew Osman Sr. Blinkys Offset BBQ                      
Lang: How did you come up with the name, Blinkys:
MO: My friends tagged me with it.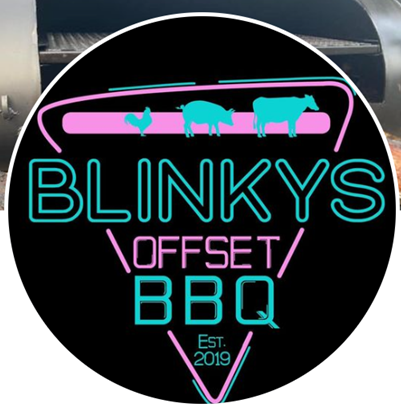 Lang: Is there anything special or historic about where you are located or nearby:
MO: Not really, Nashville, yes, Bellevue meh. I live 6 minutes from Loveless Café.
Lang: What got you into this business:
MO: Despite the long hours it takes to make great barbecue the idea of owning my own business to regulate time spent with my wife, kids, family and chosen family.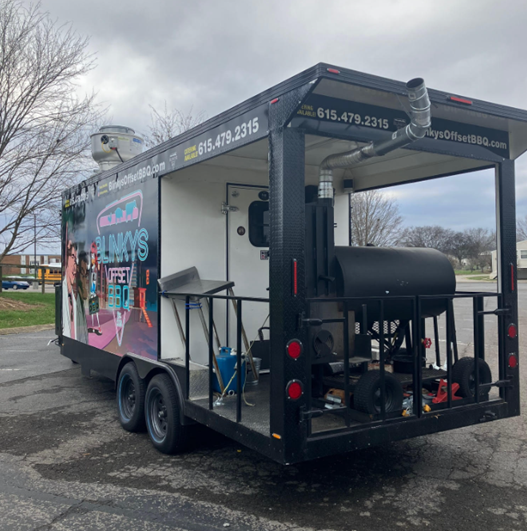 Flexible for all event conditions
Lang: Were you cooking/BBQing before you started:
MO: At home and backyards of friends.
Lang: Do you have a partner:
MO: My wife helps here and there, and I get the kids evolved as much as their attention will last.
Lang: What makes your business unique:
MO: What makes my business unique is this is my third business venture (unfortunately) and I have 18 plus years in restaurant/hospitality roles. I have a different approach to barbeque with my wife being from Texas (as an influence) to me being from Miami and living in middle Tennessee. I enjoy weaving all three of those flavor profiles and cooking styles.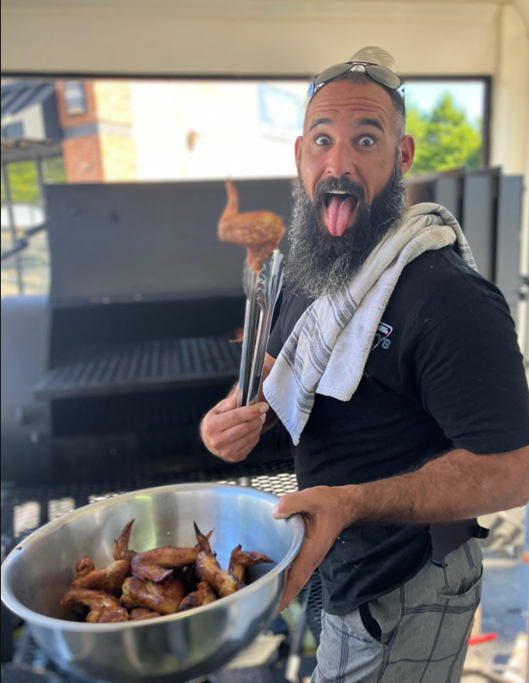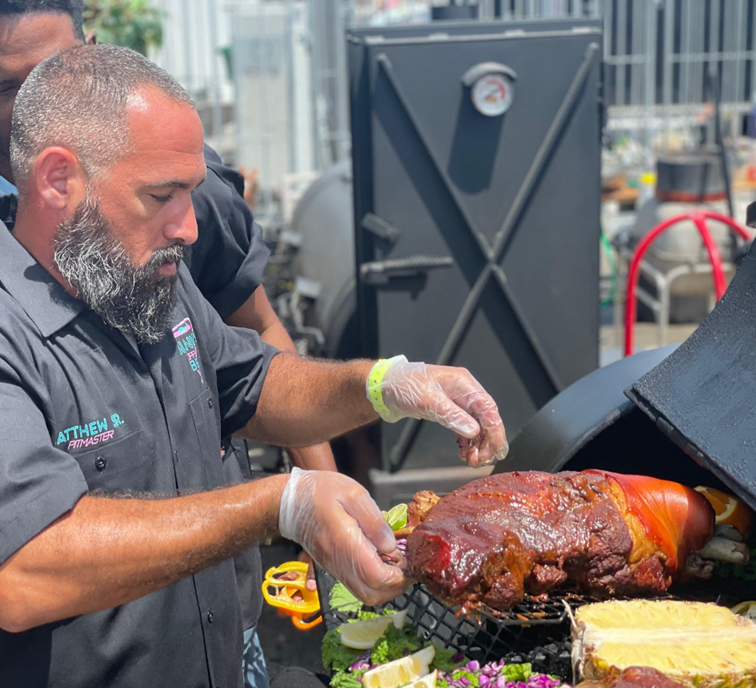 A time to jest.                                                 A time to get serious.
Lang: What is most challenging about running your business:
MO: Being patient. And learning to (KISS), Keep It Simple Stupid.
Lang: Do you have a restaurant, a food truck or other:
MO: BBQ Food Trailer (truck).
Lang: How did you go about starting the business including personal experiences and licensing and other governmental issues:
MO: Being the third business I've owned, I am familiar with the process of getting it off the ground. I am about 70% done with the legal box checking. I have my commissary agreement which allows me finish the rest and soon get the health inspection.
Lang: Tell us some additional background details:
MO: B O B will be a BBQ food truck (trailer) that serves real wood smoked southern barbeque. To start out I will operate it by myself and hope that the business grows and then I will need to hire help. Also will outgrow my 48" Deluxe Lang pit. I'm going to keep the menus simple by way of offering three different proteins three different sides and a small beverage list and two dessert options.
Lang: What pitfalls did you face when you went into business:
MO: I'd have to say the syncing of several projects/needs of the business at once. In other words not working on one task at a time and trying to allow the next domino to fall to keep the progress going.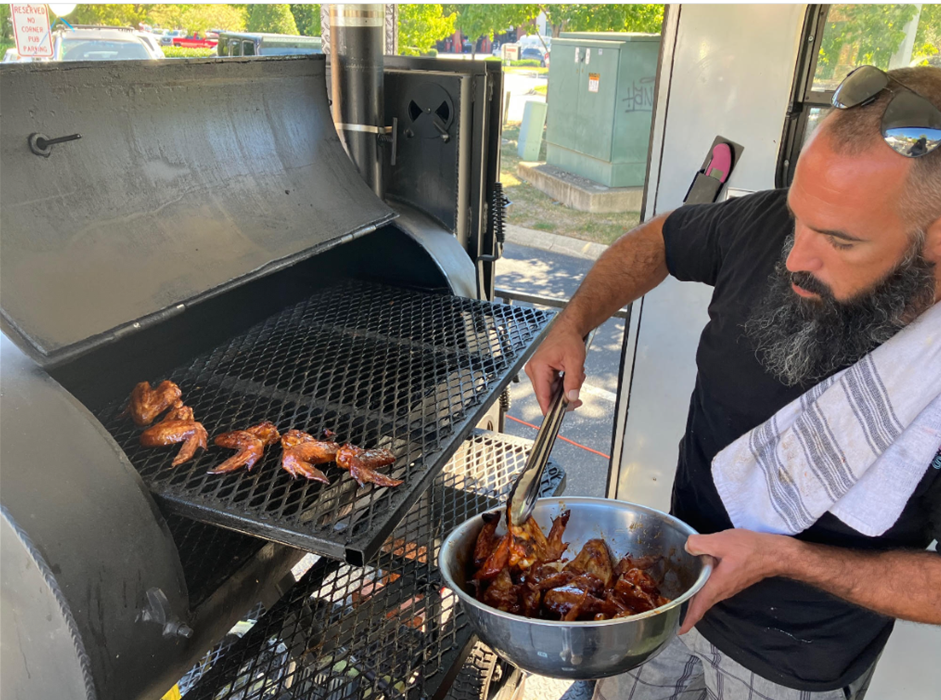 Prepping is key
Lang: What would you recommend to someone new getting in the business:
MO: Take your time, trust your instincts, have 25% more working capital than what you think is enough, and understand that it's also going to take twice as long as you think it will take.
Lang:  When did you first purchase a Lang (What model and why):
MO: I bought my Lang 48 Deluxe back in February 2021. Got it delivered in June 2021.
Lang: I went with the 48 Deluxe because at the time I did not feel I had the need for the 60 inch, nor did I have the space at my home to put It. The Lang 48 Deluxe is an absolutely terrific cooker and is the barbecue pit I used to start my business.
Lang: What Lang(s) are you using currently and in what way:
MO: I use Black Betty which is the Lang 48" Deluxe on wagon wheels. I have also used a 60 inch that I had at Memphis in May this past year. I competed in the whole shoulder division and used a 48 and a 60.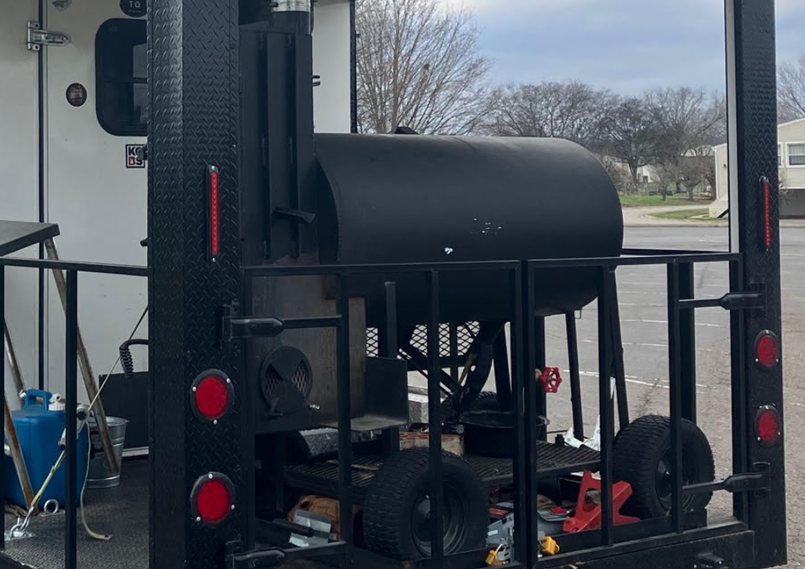 Where it all gets done
Lang: What features do you like best about Lang as a brand and a product:
MO: I loved the rolled steel aspect of it along with it being a reverse flow and that plate at the bottom that gives the sizzle. They were over the top hospitable with taking all of my calls leading up to me placing my order.
Lang: What can you share about the Reverse Flow process:
MO: In my opinion reverse flow is a better way to cook barbecue because of that second draft and heating up the entire cooking chamber. I feel that you get a bit more of a consistent sheet from end to end with reverse flow.
Lang:  What is your main goal as a chef:
MO: To share family recipes, great food and make memories for those enjoying dishes that I prepared.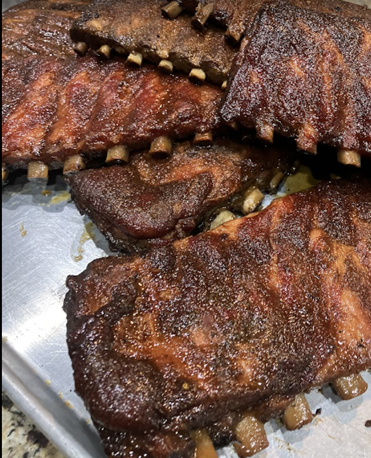 Ribs, ribs and more ribs
Lang: What are the favorite meals you like to prepare and why:
MO: I love making a fresh salsa with heavy lime, heavy lemon and fresh chopped cilantro as often as I can find top ingredients as well as making what I consider to be the juiciest pulled pork around these parts. Lastly, an all-time favorite of mine is my grandmother's recipe for roasted carrots and potatoes. Of course I alter hers by giving that roast a kiss of smoke.
Lang: Are you involved in any competitions / List a few:
MO: Yes. I've competed in several KCBS competitions and neighboring states to Tennessee along with a handful of MBN in competitions, Most recently this past year cooked in Memphis in May for the first time.
Lang: What is the most important factor in competing:
MO: Patience. Any first or second time cook team might catch lightning in a bottle but the teams that are out there week after week month after month and are constantly competitive at the top of their field and have had the patience to endure a lot of low scores, missed judgments and have had patience throughout.
Lang: What do you enjoy most about competition:
MO: The rush of walking that turn-in box to the table and (good) anxiousness while waiting to hear your name called.
Lang: What can you share about the BBQ community as a whole:
MO: It's second to none…. To quote the late great Mike Mills "The Spaghetti people aren't getting together like this. " He was so right!
Lang: What type of wood do you favor when cooking:
MO: Cherry and a kiss of Hickory at the end.
Lang: What would you like your customers or would-be customers to know about your business:
MO: I'd like them to know that my approach to this business is family first. I went down this road to make an adjustment of serious work life balance while I deliver a product that is approachable enjoyable and affordable to share with friends family and chosen family.
Lang: Can you share a recipe with us:
MO: Yes, Matt's Chunky Salsa