As we start off the New Year, we wanted to take a look at some highlights of what Lang users pointed out in 2022. Here in capsule form are some of the observations.  Hopefully this will inspire you to keep on following your Lang Smoker Cooker barbeque dreams. Take a moment and read it through.
-Even cooking, easy rise to temp, improves flavor…it's a true advance in cooking. It helps me serve a couple hundred people at a time, especially with the cooking process I have. It's fantastic.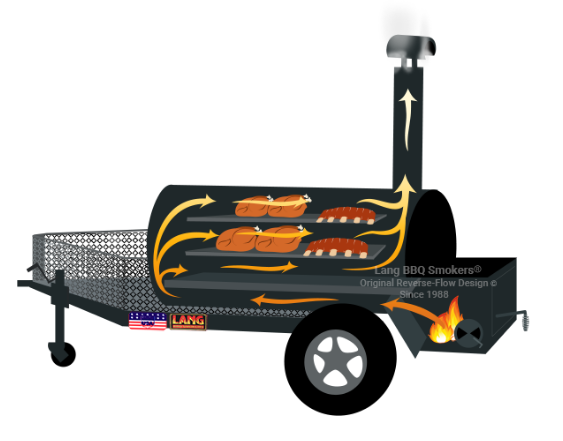 -Really gives you a good even heat.  There are still some hot spots and cool spots in the smoker, but all in all, reverse flow gives a really good even heat.  The design of the Lang and its thick metal also lends itself to good humidity in the cooking chamber.  No water pan is needed as that fat drips from the meat onto the reverse flow sear plate, creating moisture in the cooking chamber.  Just makes for a great process.
Advice to newcomers:
-Make a commitment, love what you do, get a Lang. And get one that is bigger than you think you'll need.
-Whatever you do, don't overlook the licensing and any permits your city requires. You don't need problems with legalities.
-You have to understand finance, so you need a good bookkeeper or accountant.
-Make sure you have enough capital to keep you going until you have a strong customer base.
-Buy a Lang smoker as a good start.  When you invest in quality professional tools, like a Lang smoker, it makes your job easier and makes you look like a food wizard with the product you can turn out.  It's like having a cheap pot or pan in the kitchen and having some all-clad or professional pots and pans.  Those professional tools in the kitchen can make your life a lot easier.  When you have a really good smoker that you understand how to operate well, it allows you to focus on experimenting with flavor and techniques to improve the products you offer to your customers.  If someone has a passion for cooking and making a business out of it, you can do it with a Lang and some dedicated time perfecting your craft.
Challenges:
-The prices and availability of supplies have been a moving target that got worse after the Covid pandemic.  It also shut down some momentum we had going for us prior to the pandemic.  In 2019 we had hosted some very successful Barbeque and Bourbon private dinners with bourbon brand sponsors, just some really good events.  Not being able to safely host guests for nearly 2 years stopped that momentum, but this year things have picked back up again.
-Finding good help (any kind of help) for our business because we are seasonal, and people are looking for steady work.
-Getting our pricing in line with growing costs and still offer the best foods an make a profit.
– Working through all the red tape with licensing and other legal stuff.
– It was prohibitive, cost-wise, to be a full-blown caterer.  To be a caterer in Florida you have to have a commercial kitchen or rent space in one so that you can have inspections.  Just to rent space in a commercial kitchen and go that route would mean about a $3000 expense every year before making any money.  We just didn't do enough business that would make that a profitable endeavor.  However, since we cook on-site, even our side dishes we cook on our Lang, we could operate as a private chef business which doesn't have the same regulations or requirements.
-There are some limitations on how we are supposed to sell to the general public, so we had to structure our business to meet those regulations. We go through the extra steps of getting our Food Safe Manager certs just like a restaurant does, and we maintain insurance and other requirements of being a small business.
Food Quality:
-I see this a lot. You have a meal somewhere early in the week and it tastes fine. You go back later in the week, order the same meal and it doesn't taste the same. That's because they are re-heating the leftover meat. That saves the business money. I can't ever do that. I don't re-heat the left-over meats. I sell it to a butcher friend who has hogs. He gets a good price and I recoup some of my money, so it works out. We can say, and back it up, that we serve fresh food every day, never re-heated. That alone sets us apart.
-Remember that what your customers are buying is going to be consumed. This is why it needs to be stored at the correct temperature, and you should also make sure you check your stock every day. The reason for this is fridges can only do so much in terms of keeping food fresh. As with regulations on refrigeration, there are also strict guidelines on how long the shelf-life of certain foods is.
-All too often, we hear the horror stories people have to tell about falling ill after eating a sandwich they bought at their local supermarket, and in some cases, a bout of local food poisoning will hit the headlines.
-Selling food is a great business idea. It's something that everyone needs every single day. After all, if they didn't eat, it would be impossible to stay alive! The whole point here is to make you aware of the dangers and how vital it is to make sure the food you sell is safe and the only way you can do that is to make sure it's properly chilled.
The Barbeque Community:
-Just about everyone you meet loves to share knowledge and be helpful, a lot of people that are fun to hang out with too.  A lot of family type relationships are forged in the barbeque community.
-That's where you can learn a lot. People are very open to help and share their expertise.
-A group of really fine and helpful people.
Hiring Help:
-One big challenge is having availability of hired help.  Sometimes we do a really big event and I need a few extra hands besides my wife, and it hasn't been easy to get that help when needed, no matter how much we offer to pay.  I literally was offering $35 + an hour for food runners and kitchen / chef assistants for some one-off events and had trouble getting commitments from help.
-You can't always find experienced help. But finding a worker with a good attitude, you are better off teaching them the business.
-Always be interviewing because a lot of workers will come and go and sometimes leave you high and dry.
-In my view, getting and keeping good help is the toughest part of a business.
Continuous Learning:
-You should be participating in cooking classes taught by other barbeque chefs and professionals.  Lang offered a cooking class when I got my smoker, and it taught me a lot about making my own seasonings and methods for cooking on the Lang.  I've taken several other cooking classes taught by Southern Soul BBQ and Holy City Hogs Tank Jackson and had the opportunity to cook alongside and learn from some big names in the industry.  I recommend participating in a few of those opportunities, it can show you new things or reinforce some things that you already do well too.
-The best way to go is Lang's Q-School. You get it all there.
Lang Smoker Choices:
-If I had it to do over again, I would have joined the Lang owners Facebook group before buying and I would have ended up with the 84 Deluxe with chargrill, because inevitably everyone always wants a bigger model than they purchased.  But the Lang 60 Deluxe with chargrill has served me well, and I chose that model for the capacity, the options of having a direct heat charcoal grill on the mobile trailer as well as the warming box. But, if I did it over, I would buy an 84  with the same configuration, might even consider adding the aluminum canopy upgrade to have a roof too, but I wasn't aware of some of these options at the time of my purchase.
-For serious cooking the Lang is the only practical choice. Well built, great welds, the iron is strong, and it's just built to high standards.
-You can buy a "toy" and watch it fail and waste your money, and jeopardize customers or you can work like a professional and cook with a Lang.
-Well, when you buy a Lang, you get the advice and help from Ben Lang. The owner is involved with his customers and that is unusual today.
-I can say that Lang will steer you right. You wind up with the smoker that is suited for what you want to do and help as your business grows.
Uniqueness:
-You do need to have something that sets your business apart. It can be the environment, the branding, always, always the cooking in some way.
-As Ben Lang says, you need a true flavor profile to what you offer.
–Some of what makes every BBQ business unique is the method and style of cooking, the seasonings, the flavor of the product.
–I make my own rubs and sauces, which helps to have a product that tastes great because the seasonings and sauces complement each other.  Most of my dishes are no-sauce dishes though, I'm a big fan of dry rub only but with an option of sauce on the side.
-You can make unique combinations of the foods your prepare.
-The best way to be unique is to produce high quality, high value meals that smell great, look great and taste great. Surround that with great customer service and you will have a successful business. Because word of mouth is the best advertising.
-Make it a passion project where the focus is on making the absolute best food and hosting the best events possible that bring people together over food, not necessarily the biggest.
Note: It's a new year so look at it as a new opportunity to take your business to your goals. Remember, Lang is a company that loves the business they are in and that makes all the difference for your business. Call Lang if you want to learn to right way to start a business or how to improve your business.