Smokin' J's Bar-B-Que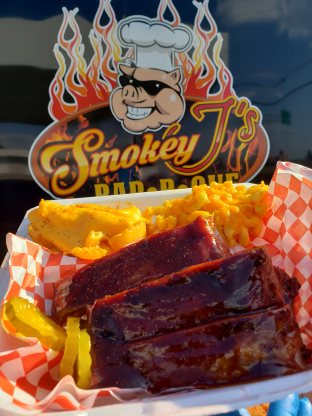 Sometimes you have to overtake your business dream instead of just following it.
When you have a business dream you can't afford to fall asleep.
Sometimes it's not about how much passion you have in a business dream, it's about how much passion you have in your heart for that business dream. Jay Mobley is just such an example and that passion is the only reason that Smokey J's Bar-B-Que is in operation today in Montgomery Alabama.
Jay always had some form of cooking on his mind. After looking into various grill brands he decided to do a test run. That said, he decided to go to a close friend who was already into barbeque and asked if he could borrow his Lang 60. Jay cooked on it and explained that he wanted to try some barbeque recipes of his own to see how things would go. He hauled his friend's Lang 60 the auto plant where he worked and on a weekend some 130 people placed orders for his taste delights.
When it comes to business you have to believe in yourself.
The feedback he received from people at the plant was off the charts and that's all it took for Jay's passion to set him moving. He contacted Ben Lang who set Jay on the right track, helped provide some of the keys things to be careful about and then it was off to Lang's Q-School.
There he learned how to get the best results from a Lang Smoker Cooker and many of the necessary techniques for successful barbeque from the Baron of Barbeque and a BBQ Hall of Fame Member, Chef Paul Kirk.
You're either in all the way or you likely won't make it.
Sure, planning is important, but what's more important is to follow your heart because business is all about heart. And Jay did just that. He didn't just read it in a book he jumped in. He purchased a Lang 84 Deluxe and a Lang Patio 36.
Of course you need pulling power to move those babies around so Jay bit the bullet and traded in his favorite sports car and bought a truck (that's called commitment). As Jay put it, "Sink or swim baby!" Once he started selling barbeque meals he realized he should have bought a Lang 108. After trying to keep up with plating dishes by the hundreds for all the customers that became fans he made the next move.
It's one thing to get customers; it's another to serve them well.
Jay needed to improve his production capacity. Orders started multiplying, 87 then 127 and the numbers were growing. It became unproductive to plate all those meals so he ordered a trailer, essentially a mini box-like truck top that is mounted on a trailer with serving window on the side and kitchen support inside.
The Lang Smoker Cooker sets up behind it with a warmer box as well: another investment made to keep his customer-first brand growing strong. If you believe in your dream you will commit to make it happen. With any business, there are always challenges to face and overcome from getting started to continuously operating successfully.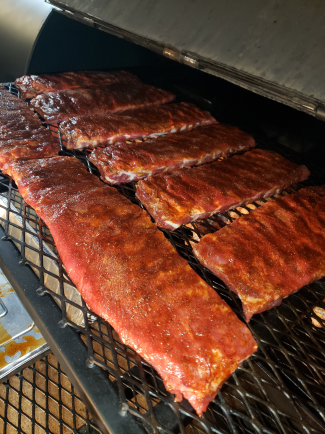 To be productive you need the right equipment
Jay believes that Lang has developed the finest process to create that amazing "taste profile," as Ben Lang has coined it. It's about the performance of the Reverse Flow offset ability to put a water pan in for moisture.
Business is about all about being a step ahead:
You have to "go for it" all out and all in, failure is not an option.
Go to Q-School and learn how to cook.
Develop your own rubs and sauces so you are distinctive.
Be sure your food is taste and texture consistent.
Develop and perfect your own taste profile.
Don't be afraid to try new things.
Listen to your customers.
Who will you be serving and how?
Do you have all the paperwork, requirements and insurances required?
Love what you do and be the best you can at it.
In Jay's first time out at a pitmaster competition (2019) at the KCBS in Kansas City, Jay went up against the big guns. He was beyond pleased when he his chicken came in 3rd place, ribs in 5th, and came in 6th place overall. And he did it boasting a Lang T-shirt. Pretty amazing for a first-timer!
Jay believes that some of the most important factors in a competition are the right cooking temperature with consistency, and timed so the meal is ready just about when it gets judged, no easy task. Also, perfect color and texture to the meats, and of course taste and overall appearance are vital. Above all Jay says that "The most important factor is that you expect to win, and not be undone." Smokey J's Bar-B-Que does it all but with its own unique taste profile: Ribs, Rib Tips, Brisket, Pulled Pork and other specialties like Loaded Fries, Loaded Mac and Cheese, Cowboy Burgers and more.
Jay is planning to open a new full service restaurant within two years. He will have 3 to 4 Lang 108 smokers at work.
The whole business grows or fails on customers speaking well of you, give you return business and send referrals. That's when you can say, "My business is cookin.'"