Bam Bam BBQ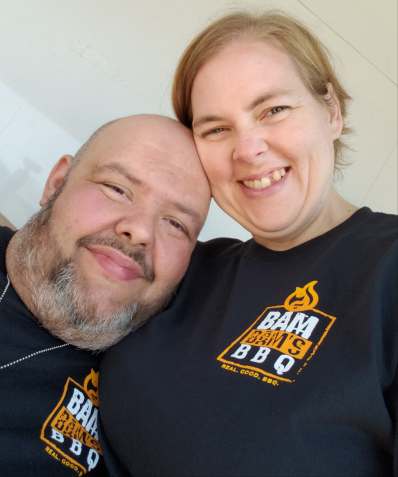 Andy and Cindy Lescalleet were involved in smoking from early on.  They started out cooking BBQ in their backyard for family and friends. Then they decided to give it a shot with the Kansas City BBQ Society competitions just for fun.
Initially competing in the Backyard Competition Series and then moving up to the Master Series, Professional Class. They became so good at prepping superb, competition quality meals, especially barbeque, close friends would ask them to make dinners on many occasions. Then when two friends were getting married they asked Andy and Cindy to prepare barbeque for the wedding reception. Things began to gain forward momentum from that point on and now their food truck is out and about serving up fabulous BBQ with their Lang 60 Deluxe Smoker Cooker.
One of the factors that led Andy and Cindy to Lang was the detailed research they did. They quickly came to realize that every product at Lang is designed and built by people who really understand smoker cooker requirements and advantages. They have created smoker cooker models designed for backyards, competition, and commercial use.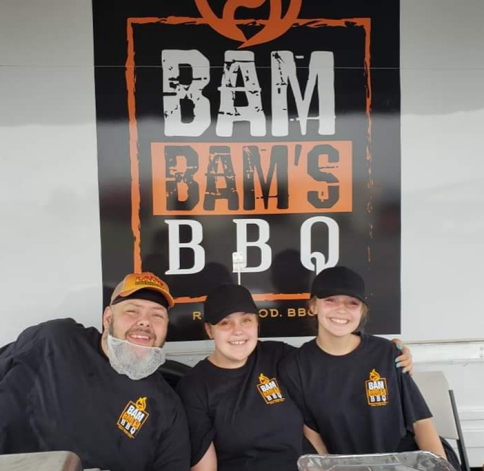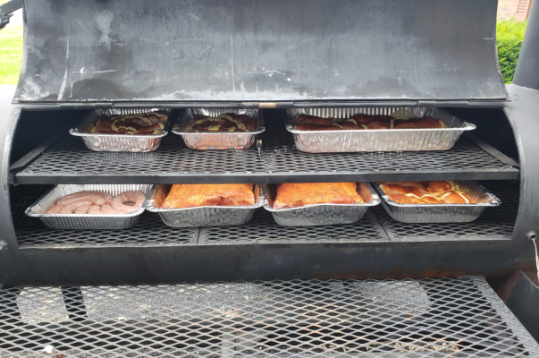 The reverse flow gives their meals a flavor profile that is– and this is important– a consistent, unsurpassed flavor profile. (That by the way is one of the keys to competition success). Andy says, "Our Lang smoker is fuel efficient and lets us go low and slow or hot and fast. That kind of flexibility allows us to adjust the process to what will best end up with a superior product." Above all you have a really dedicated Lang family and company that will support and stand behind you.
When you have a business vision it has to be in your heart not just your head
When you are starting a business you face obstacles. That can be the time when in your head you consider giving up, and that's when your heart pumps you back up to keep going. Andy and Cindy are doing just that, going forward with their amazing food truck (although by its size it looks more like a food bus). They are based in Stephens City, Virginia.
You're going to make sacrifices to get to the reward.
If you see your vision clearly you will commit to bring it into reality. As Andy and Cindy are experiencing there are always challenges to face and overcome from getting started to continuously operating successfully. Cindy still works at a full time job and Andy handles family responsibilities. They prepare and sell out of their food truck on week nights and weekends. It's a great deal of work, but as they know, you only get what you work for!
We asked Andy and Cindy about their business in an interview. What they shared with us can be of help to you.
The Interview:
Q: Tell us about the name of your business: Bam Bam's BBQ, and what makes it unique:
A: Our business is unique because we use all of the same recipes and techniques that we use for competition BBQ when we do our catering and food truck. We go through all of the same extra steps because we want our customers to experience the same caliber of BBQ quality that they would get if they were judges at one of the competitions.
We are also convinced that our Lang makes our business unique. It is literally a member of our family. We take it with us to every event, even if we have already cooked everything, simply because it is a conversation piece! The first competition we cooked on it, we knew we had to give it a name. Our 3 man BBQ team (Bam Bam, Cindy, and our BBQ brother, Art Burdick) were sitting together that evening, having our usual competition nightcap, listening to some classic rock. Crazy Train came on by Ozzy Osbourne, and we all looked at each other at the same time and said, 'That's it!' It stuck! We gave our Lang a nickname; 'Ozzy'. We also had a custom cake made for Bam Bam for his 40th birthday, and it was a 3D version of 'Ozzy'.
Q: How did you start in business?
A: Well, Cindy bought Bam Bam a small bullet smoker for his birthday one year, and he went to town on that thing. We would just cook for friends and have them over for parties where we would cook. We had a few of those friends ask us if we had ever considered catering, because they wanted BBQ for their wedding. At that time, we started catering. We knew that we wanted to eventually work towards a food truck, but had to start somewhere. We have been working really hard trying to make our food truck user friendly, and are now fully mobile. We love our Lang smoker so much that when we were designing our menu for the food truck, we included our BBQ story and a picture of the first day we got it.
Q: What were the pitfalls you didn't expect?
A: All of the hoops we had to jump through for the health department. We knew how to cook, but really had to learn a lot about cost and profit margins, and how to run a business in and out.
Q: What would you recommend to someone new in the business?
A: Research everything first. To start, contact your local Small Business Administration. They have lots of resources available at no charge and are very helpful. Also, find an accountant ASAP. They will help you have less to worry about while you are running your business.
Q: When did you first purchase your Lang?
A: March 2015, Lang model 60 deluxe. We purchased the Lang because after doing a lot of reading and research, it seemed like the best cooker for our style of BBQ. We were so right. We wouldn't cook on anything else.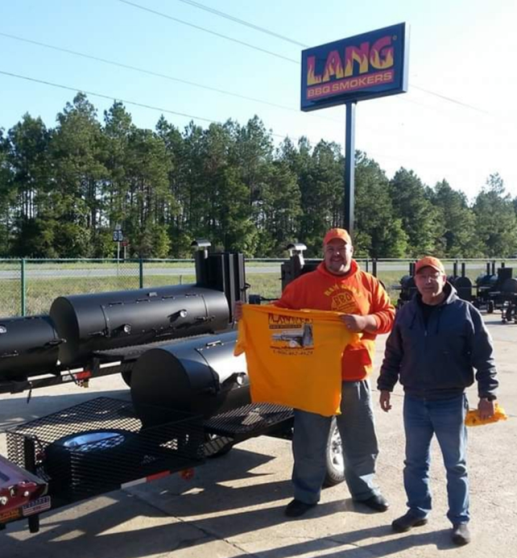 Q: What Lang are you using currently?
A: Same one. But hoping to upgrade to an 84" soon!
Q: What features do you like best about your Lang?
A: Griddle plate seasoning, it really does get better the more you cook on it. Also the thickness of the metal used. And the Reverse Flow, it's the key to even cooking all the way across and it's the secret to a consistent taste profile.
Q: What is your main goal as a pitmaster?
A: To produce the best quality product that we can, every time. I also try to never get complacent, to keep constantly improving. Can't afford to get stale.
Q: What are the favorite meals you like to prepare?
A: Brisket is our number one; smoked sausage, pork tenderloin.
Q: Are you currently competing?
A: Most recently Mid Atlantic BBQ Expo in Atlantic City, New Jersey. Next is Covington Cork and Pork in Virginia in June.
Q: What projects are you currently working on?
A: Currently our focus is on our food truck, finding locations for set up, taking it to local fairs and events, etc.
Q: What is the most important factor in competing for you?
A: Consistency! Best taste. Best texture. Best look. Every time!
Q: What do you enjoy most about competition?
A: Cooking on our Lang and getting to spend time with our BBQ family. The BBQ community as a whole is truly a family. We have met some of the nicest people we know while doing BBQ. They will do anything and everything for you except give you their recipes or competition secrets.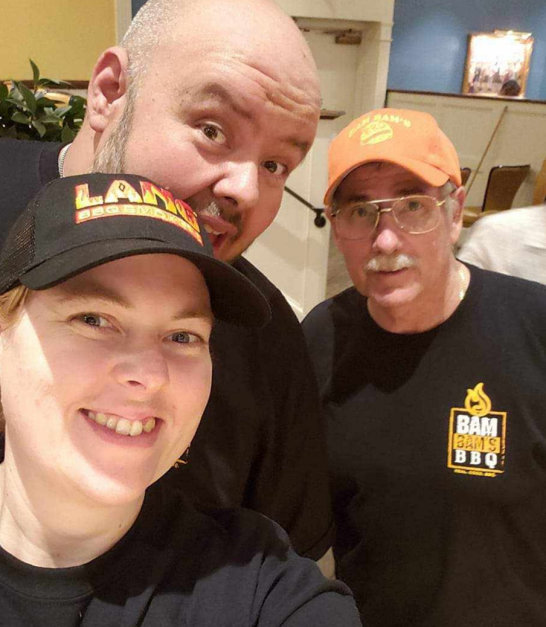 Business is about preparedness:
Have all the local governmental papers and certifications in order.
Have an accountant and insurance agent.
Be ready financially.
Make sure you have good help.
Be sure your food is taste and texture consistent.
Listen to your customers.
We asked Andy and Cindy to
share a recipe with us: