Northeast Florida, they say, is a best kept secret. The area boasts historical significance. From the charm of St Augustine (the nation's oldest city) to its natural wonders, pristine beaches and a truly laid-back way of life, it is truly unique. And around Jacksonville and Fernandina Beach you can follow the barbeque aroma that leads you to Barkmasters BBQ, owned by chef David Horton. Here are some of his insights on the business.
Lang: So, David, how did you come up with that particular business name:
DH: My wife and I are big dog lovers, or crazy dog people however you may classify it.  And my wife's cousin is a graphic designer and marketing guy who was one of the first people to push me towards taking my barbeque talents to a "professional" level.  The actual day I decided I would make my barbeque business a real entity was right after I had cooked for a neighbor's daughter's college grad party and the response was such that other people kept asking to hire me.
So on a whim, and with a little back and forth brainstorming with my wife's cousin, the name "BarkMasters" was floated as a name with a good double meaning – having our two Yorkies as mascots (the dog relationship) and "bark" also being what good barbeque has as well.  It wasn't necessarily going to be the final version of my business name, it was more of a placeholder at first until we would revisit the name again later, but my wife didn't know it wasn't going to be permanent and bought me a surprise neon sign for BarkMasters for Christmas that year … so it's stuck.
Lang: Where is your business located:
DH: We're in Northeast Florida. I claim Jacksonville and Fernandina Beach as my locations because I'm smack between the two on the Northside of Jacksonville.
Lang:  Is there anything special or historic about where you are located:
DH: Fernandina Beach Florida is very historic and scenic, as are many locations around northeast Florida.  There are forts (Ft. Clinch, Ft. Caroline, Ft. George) and grounds in the area that pre-date the civil war and go back hundreds of years.  It's a short drive up the road and you're in Georgia, again the Golden Isles of St. Simons, Sea Island, Jekyll, Cumberland Island, lots of history and scenery – and great food – all around this area.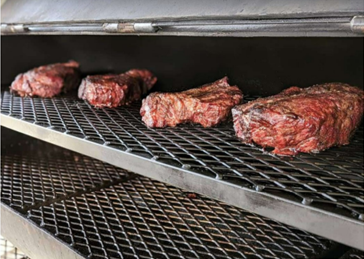 A beautiful and tasty aroma grillin'
Lang: What compelled you to start this business:
DH: My wife and I are both lifelong musicians and I was involved in the music scene for over 30 years, performing as a DJ (originally from Atlanta) and hosting / throwing events as well as producing music.  I owned and operated a DJ / Lighting and events company in Jacksonville for 10 years but eventually got to a point where I was working a full-time day job, then working in music and events in the evenings and weekends and never had any time off.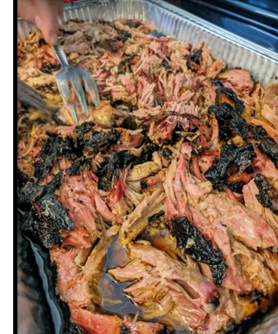 David's works of art however it's served
It was either grow that business and compete full-time with other full-time audio lighting companies or step away and stick with my career in banking technology (my full time job).  So, I stepped away from my music and events career.  However, throwing events is something I have a love for doing and have a talent for.  I've always loved to cook.
Lang: So, passion really compelled you:
DH: I'm a fat guy who loves to eat and throw in a love for bourbon / spirits and food together, and it's just a natural progression to something else I was passionate about.  I love how good food brings people together.  You can have people of completely different races, political leanings, cultures … all come together when some really good food is in the mix.  So, after hanging up my music career, I bought an Old Country Pits Pecos and started my barbeque journey and within a year and a half, I was buying my first Lang 60 Deluxe and taking my game up a notch.  This led to me cooking for friends and bigger events, and me once again hosting events but now they were food related rather than music / DJ related.  People wanted to hire me to cook and the I finally gave in and the business was born.
Lang: So, you were you cooking/BBQing before you started:
DH: I've been a backyard barbecuer since my late teens, but I didn't make it a focused passion until around 2016.  Bought my Lang in 2018 and it's just been a steady progression since then.
Lang: Do you have a business partner:
DH: My wife Monique is my partner in everything I do, sometimes a reluctant partner (laughs).  She's Laotian (Laos) and her family has a rich culture and cuisine of their own.  It's really fun when we throw down on an event together, because while people love my barbeque, sometimes they love her Laotian food more.  We've experimented with some cross over items too, like pulled pork and goat cheese egg rolls, in place of her all-beef Laotian eggrolls that are always in high demand.
Lang: How does having a partner help your business:
DH: My wife helps me pull off the execution of events where we are feeding larger crowds, or when we are doing a popup event at a brewery / distillery, it helps having that extra assistance when it gets busy.  She helps with prep and with some of the attention to detail items, like charcuterie boards and making sure the plating and décor look appropriate at events we host.  Plus, she's easy on the eyes and good at interacting with customers when we have a mobile / on-site event, which frees me up to focus on the food when necessary.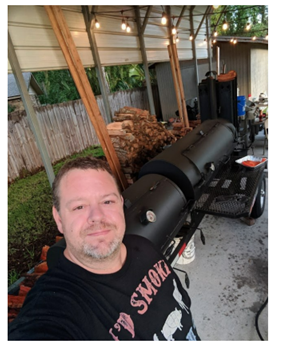 Always ready to fire up
Lang: What you say makes your business unique:
DH: Some of it is what makes every BBQ business unique I suppose and that's our method and style of cooking, the seasonings we use, the flavor of our product.  I was born in South Georgia, and have lived in Atlanta and North Florida too, spent a lot of time in Alabama as well, and I've eaten good and bad barbeque from all over the Southeast (more good than bad).  I can say that my barbeque has a Georgia / Carolina and North Florida style to it, which is to say I take influences from Georgia, the Carolinas, maybe some Texas, Alabama and Memphis influences as well.
Lang: You also offer more than smoked barbeque:
DH: I make my own rubs and sauces, which helps to have that pairing and produce a product that tastes great because the seasonings and sauces compliment each other.  Most of my dishes are no-sauce dishes though, I'm a big fan of dry rub only but with an option of sauce on the side.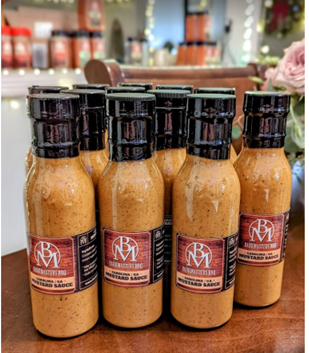 It's bottled magic
Lang: Is there another facet of your business you can share:
DH: The other thing that makes my business unique is that the primary focus of my business is not quite like others.  I operate BarkMasters BBQ as a "private chef" business and not as a caterer or food truck.  We cook on site at events and popups, and love to host events (usually Barbeque and Bourbon related) or cook at private parties and dinners.  But we don't do weddings and don't strive to be someone who cooks at weddings or be booked all the time.  We don't strive to be booked every weekend, I would say we average 1 – 2 events per month, sometimes more / less.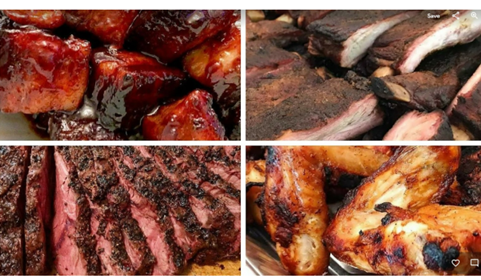 The chef's table
This really is a passion project where the focus is on making the absolute best food and hosting the best events possible that bring people together over food, not the most events or the biggest, etc.  I'm involved with local bourbon societies and often our events are focused on that crowd, but our client base does continue to grow so our purpose and types of events and clients continue to grow as well.
Lang: What would you say is most challenging about running your business:
DH: The prices and availability of supplies have been a moving target that got worse after 2020 and the Covid pandemic.  It also shut down some momentum we had going for us prior to the pandemic.  In 2019 we had hosted some very successful Barbeque and Bourbon private dinners with bourbon brand sponsors, just some really good events.  Not being able to safely host guests for nearly 2 years stopped that momentum, but this year things have picked back up again.
Lang: What about hiring help:
DH: One more challenge is having availability of hired help.  Sometimes we do a really big event and I need a few extra hands besides my wife, and it hasn't been easy to get that help when needed, no matter how much we offer to pay.  I literally was offering $35 + an hour for food runners and kitchen / chef assistants for some one-off events and had trouble getting commitments from help.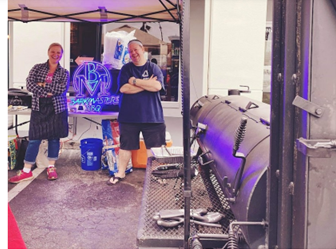 Ready to delight customers all the time
Part of it is that we only need help sporadically, it's not like a part-time job where you are working every week.  It's just every once in a while.  But sometimes making $150 for 4 hours work isn't incentive enough to get someone to help, which is kind of crazy.  Maybe I just haven't found the right person and situation for that yet.
Lang: Do you have a restaurant, a food truck or other:
DH: I have a private chef's business license, Food Safe certifications, and just operate the mobile smoker trailer Lang 60 Deluxe with chargrill and have a 10 X 15 branded tent to setup for on-site events.
Lang: How did you go about starting the business including personal experiences and licensing and other governmental issues:
DH: Because we don't do this full-time, it was cost prohibitive to be a full-blown caterer.  To be a caterer in Florida you have to have a commercial kitchen or rent space in one so that you can have inspections.  Just to rent space in a commercial kitchen and go that route would mean about a $3000 expense every year before making any money.  We just didn't do enough business that would make that a profitable endeavor.  However, since we cook on-site, even our side dishes we cook on our Lang, we could operate as a private chef business which doesn't have the same regulations or requirements.  There are some limitations on how we are supposed to sell to the general public, but we are able to structure our business so that we can meet those regulations.  At some point, if we allow ourselves to get big enough, we may have to look at having a full-blown catering operation.  We go through the extra steps of getting our Food Safe Manager certs just like a restaurant does, and we maintain insurance and other requirements of being a small business.
Lang: Can you share a bit more background details:
DH:  I'll give you another personal story. Living on the farm in South Georgia, my dad taught me how to grill.  I will say he taught me both how to do it right, and he also showed me how you can screw up too – because if he had drunk too much, he was burning stuff on the grill.  But my dad had an old 4 ft diameter concrete sewer pipe junction in the backyard he had set on its side, and he chiseled out a section on the side to make a door / inlet to allow a way to get wood inside.  He then had some expanded metal grates cut that would fit on the top section of the pipe to be the cooking grates.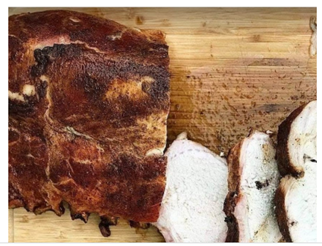 It's almost too beautiful to slice…but
He had some big old round concave Coca Cola sign from the 60s or 70s that was the same size but slightly bigger than the pipe, and he welded a few handles onto the outside of it so he could use the sign as a lid to the smoker he had built out of this pipe.  A thin piece of tin to cover the firewood door on the side, held up by a brick, and he basically had a 4 ft round homemade smoker that he would smoker / grill whole goat, deer, and other things on, as well as pork and beef.  Very much some country boy ingenuity.  The moral of the story is you can cook on anything as long as you know how to use it and how to manage your fire.
Lang:  What were the pitfalls you didn't expect when you went into business:
DH: The high cost of having a "catering license".  For someone who just starts out and wants to be legit, the costs of operating a small catering operation is tough for a part timer.
Lang: What would you recommend to someone new getting in the business:
DH: Buy a Lang smoker is a good start.  When you invest in quality professional tools, like a Lang smoker, it makes your job easier and makes you look like a food wizard with the product you can turn out.  It's like having a cheap thing pot or pan in the kitchen and having some all-clad or professional pots and pans.  Those professional tools in the kitchen can make your life a lot easier.  When you have a really good smoker that you understand how to operate well, it allows you to focus on experimenting with flavor and techniques to improve the products you offer to your customers.  So, I recommend buying good tools and spending the time to get to know them well.  If someone has a passion for cooking and making a business out of it, you can do it with a Lang and some dedicated time perfecting your craft.
Lang: Do you believe in continuous learning:
DH: I also recommend participating in cooking classes taught by other barbeque chefs and professionals.  Lang offered a cooking class when I got my smoker, and it taught me a lot about making my own seasonings and methods for cooking on the Lang.  I've taken several other cooking classes taught by Southern Soul BBQ and Holy City Hogs Tank Jackson and had the opportunity to cook alongside and learn from some big names in the industry.  I recommend participating in a few of those opportunities, it can show you new things or reinforce some things that you already do well too.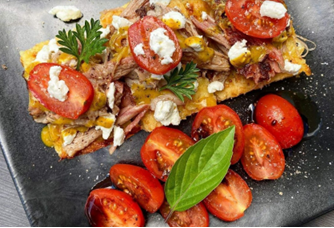 It's not just good food, it's good looking food
Lang: When did you first purchase a Lang:
DH: I bought the Lang 60 Deluxe with chargrill in 2018.  Nahunta is only an hour up the road from me and Ben Lang is one of the nicest guys in the industry.  Went up, took a tour and had him show us around.  Honestly, at the time, I had no intentions of making this into a business and probably had visions of getting a 48 patio or something small like that.  But, when presented with the opportunity to have a mobile trailer, and my love of events, I naturally gravitated towards the trailer models and the 60 Deluxe was already bigger than I probably was thinking about at the time.
Lang: So, you would have purchased a larger Lang:
DH: If I had it to do over again, I would have joined the Lang owners Facebook group before buying and I would have ended up with the 84 Deluxe with chargrill, because inevitably everyone always wants a bigger model than they purchased.  But the Lang 60 Deluxe with chargrill has served me well, and I chose that model for the capacity, the options of having a direct heat charcoal grill on the mobile trailer as well as the warming box.  I upgraded to the stainless racks and a put the damper upgrade on the firebox so that you can cook directly into the warming box if you want to.  But, if I did it over, I would buy an 84  with the same configuration, might even consider adding the aluminum canopy upgrade to have a roof too, but I wasn't aware of some of these options at the time of my purchase.
Lang: What features do you like best about Lang as a brand and a product:
DH: I love the thick metal and clean workmanship of the welds, the product is just well-made.  I also like Ben Lang and the company, just up the street.  Just a nice bunch of folks.  They stand behind their products as they should.
Lang: What can you share about the Reverse Flow process:
DH: Really gives you a good even heat.  There are still some hot spots and cool spots in the smoker, but all in all, reverse flow gives a really good even heat.  The design of the Lang and its thick metal also lends itself to good humidity in the cooking chamber.  No water pan needed as that fat drips from the meat onto the reverse flow sear plate, creating moisture in the cooking chamber.  Just makes for a great process.
It's all about camaraderie
Lang: What is your main goal as a chef:
DH: I just want to make great food that people enjoy.  If my food can put smiles on faces, then that's when I feel most fulfilled.
Lang: Do you use rubs or sauces when you cook:
DH: Another goal of mine is releasing my own BarkMasters BBQ brand of sauces and rubs.  I've spent some years perfecting several recipes and this year we started selling through our website and at events where we cook.  I was making them on a small batch scale, but I sell out immediately each time I make a new batch and offer them, so it is now at the point where I'm going to a copacker and getting some of my items prepared for retail ready.  I look to grow that side of my business a lot over the next few years and think we can be successful there, even without having a brick-and-mortar restaurant to help us promote the products.
Lang: What are the favorite meals you like to prepare and why:
DH: That changes with the wind, I guess.  But I'll list a few and my reasons.  My pork spareribs are great and something I feel is a great product we offer.  No sauce, dry rub only, some of the best pork ribs I've had myself and a big favorite of our customers.  Pork belly burnt ends are probably what we get requested more than anything from out customers.  Decadent and delicious.  But I've recently fallen in love with cooking brisket too.
Nope. No way you're just gonna walk by that
There wasn't as much need for brisket the last few years because we weren't cooking for large enough crowds where brisket made sense (we would do chuck roasts instead or other dishes).  One of my favorite things to smoke at private dinners is rack of lamb.  Give it the brisket treatment of seasonings, smoke at a higher heat to an internal temp of about 130 and man they are good.  It's usually something our customers are surprised at how good they are, little lamb lollipops after they are sliced and even people that don't usually like lamb because it's too gamey, they love these.  The kiss of smoke and seasonings seem to take away some of that gaminess that people could otherwise be turned off by.  Lastly, I love to cook beef plate short ribs.  So unctuous and flavorful.
Lang: Are you involved in any competitions:
DH: I will be assisting the Tanks Up Holy City Hogs crew at the upcoming Firebox at the Bluff festival in St Simons Island in October.  This is the yearly charity BBQ cookoff hosted by Southern Soul BBQ (St. Simons) where 100 percent of the proceeds benefit the Firebox Initiative, a charity that gives assistance to service and hospitality workers in times of need.  Otherwise, I'm not in competitions right now.  I may be entering some of my sauces and seasonings in future competitions, but I'm not ready for that yet.  I don't have a desire to do typical barbeque competitions where you are cooking for how something looks, and everything has to be a certain way for the judges, etc.  That isn't something that interests me right now.  I would like to assist other established teams or people who are in the competition circuit, but only to have that experience, and to have an excuse to hang out with more barbeque folks at fun events.
Lang: What can you share about the BBQ community as a whole:
DH: Just about everyone you meet loves to share knowledge and be helpful, a lot of people that are fun to hang out with too.  A lot of family type relationships are forged in the barbeque community.
Lang: What type of wood do you favor when cooking:
DH: I always try to keep a good stock of oak, pecan, hickory and cherry.  If I could only have two it would be oak and hickory, but it's nice that I'm able to typically get all four of my favorite wood types here where I live.  I change which wood I use based on what is cooking.  Oak, Hickory, and Cherry for pork.  Oak, Pecan and maybe a little hickory for beef and lamb.  Oak, pecan and hickory mix for chicken and poultry.
Lang: What would you like your customers or would-be customers to know about your business:
DH: That we are laser focused on quality.  Being a small business that only cooks at events and private dinners allows us to put our all into delivering the best quality at those events.  We don't have the challenges of a daily routine keeping a restaurant or food truck stocked.  We don't make as much money as those other guys, but it does allow us to focus on one customer at a time and make sure our product is the best it can be.  Customers should try our Carolina Georgia style mustard sauce too.  It's sweet and tangy with a little bit of spicey kick that has our repeat customers putting it on everything from pulled pork and chicken to scrambled eggs in the morning.
Lang: Can you share a recipe with us: