Groveland is a city in Lake County and has been one of the fastest growing places in Florida not far from Winter Garden.
Groveland beams with gorgeous landscapes and a flourishing agriculture. The acreage and distance between homes is a real estate advantage. Whether you enjoy taking in a gorgeous sunrise or admiring Florida's foliage and wildlife, the picture-perfect town of Groveland is perfect for nature lovers. That is where you will find Keith Drawdy and his family and friends making a real difference in barbeque cooking with Smokin' Up the South BBQ!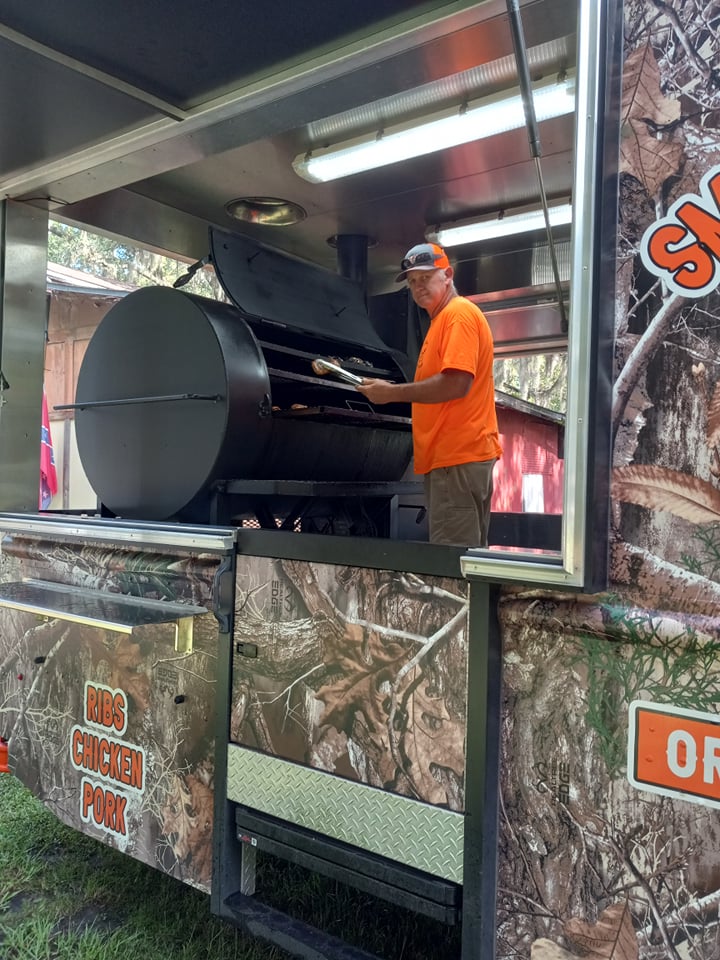 Keith at the helm
Lang: Let's start with how you came up with the business name:
KD: I was always cooking up something for friends and family. On day I was serving quite a few people, and someone asked me about my barbecue, and I just said, "Hey, I'm just smokin' up the south." So that seemed like a great business name.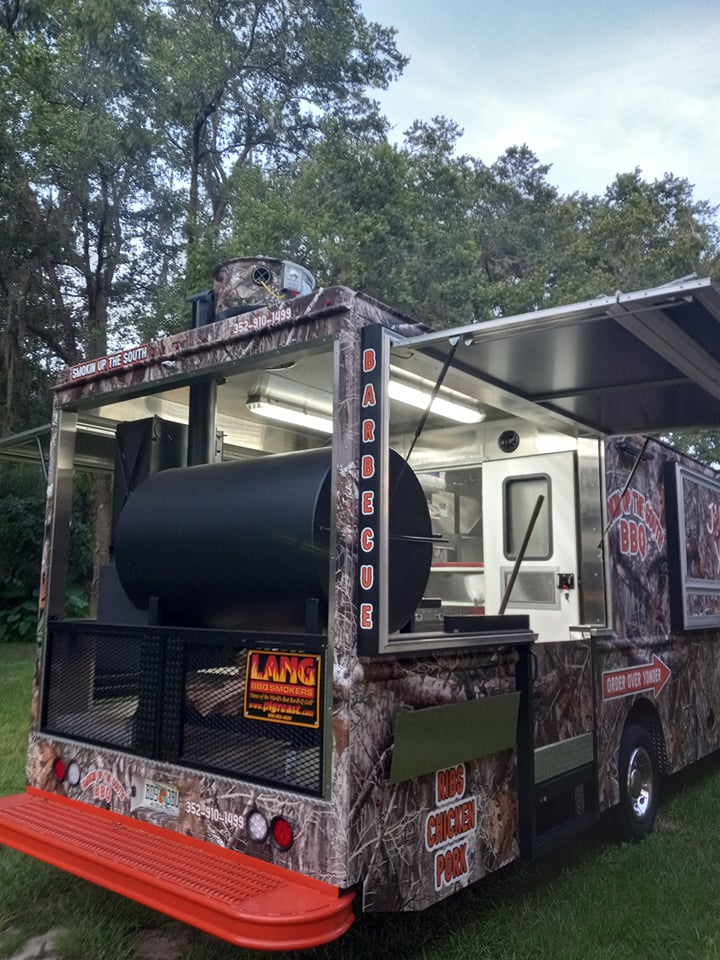 Life's an open box!
Lang: Tell us a bit about how you got started:
KD: Well, at one point I built my own grill. But too many people were asking me to barbeque for them. I didn't know much about reverse flow and didn't even know about Lang at the time. I just went ahead and bought a used Lang 84 Deluxe pull-behind from a private seller, and I was off and running. Started doing more birthdays and other events and business began growing.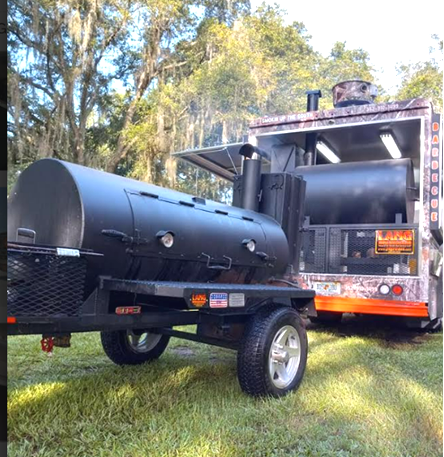 They go everywhere together
Lang: What were some of the difficulties:
KD: I had to start out cooking on weekends since I had a full-time job.
Lang: So, you have quite a billboard sized truck with amazing graphics.
KD: I wanted to be able to be seen in a big way whether I'm cooking on the roadside, at an event or just driving down the road. So, I bought a big truck; a Ford 550. If you've ever seen one of those Snap-On tool trucks, that's how big it is, 32 feet long. There's 24 feet behind the front cab. And we have a full-service kitchen with our Lang ready to do the job.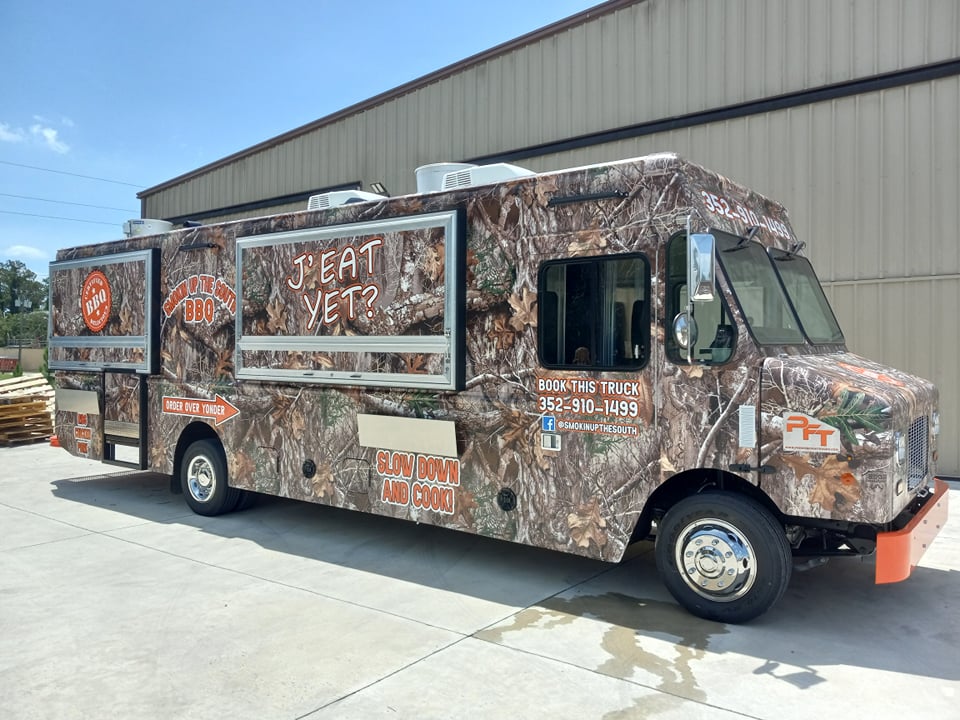 The truck draws 'em in but the food brings them back
Lang: How did you go about planning the truck:
KD: I didn't just want a massive truck; I wanted big graphics that completely covered the entire truck, like a big moving billboard. I had something real specific in mind, so I sat down and made some detailed drawings of my idea. I wrote out every word, figured where I wanted every photo and how big.
 Lang: What came next:
KD: My buddy and I (Nate Wengerd) took my drawing over to Premier Food Trucks in Bunnell Fl. There we sat down with Jordan (owner of Premier) and presented our drawing. He said they haven't built one like it and were eager to get this done. So, Jordan and his right-hand man Brandon went to work.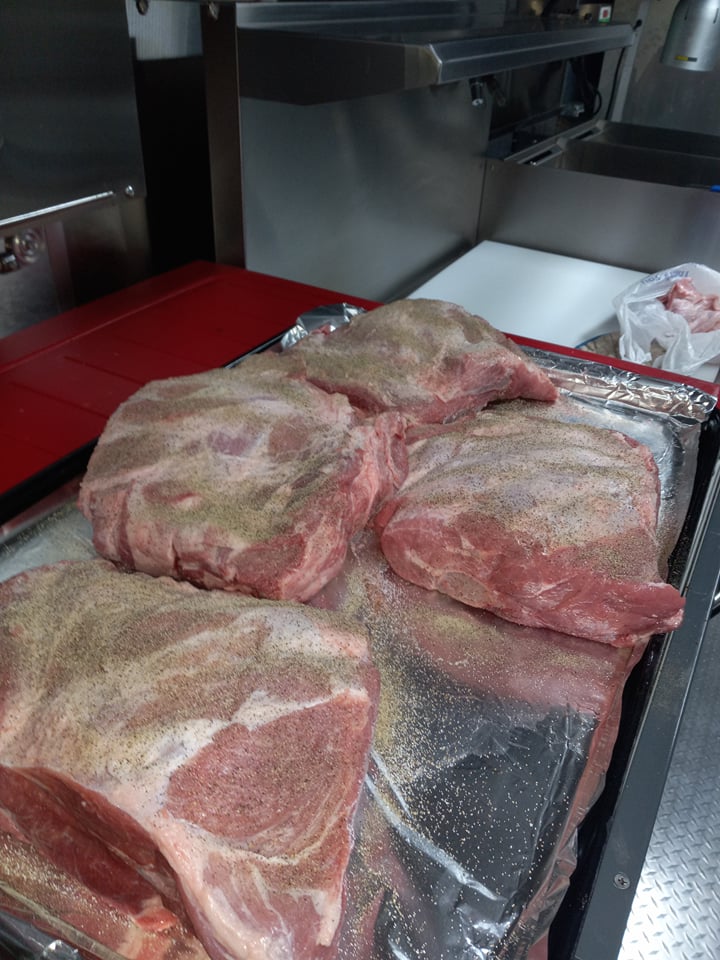 Easy to serve perfection comes from perfecting the prep
Lang: Looks like you achieved your goal on the truck.
KD: I'm real happy with it, not just outside but inside too. We have our 84 Fat Boy Deluxe built into the floor so its secure. We can have our whole crew in there cooking with plenty of room.
People are always stopping to look at the truck, it gets a lot of attention. They look at the graphics and then order food. We also have the outside of the truck outfitted with LED displays. That lets me display our menu, specials and photos of meals were prepared.
LANG: What smokers do you have
KD: We only have two smokers 84 Fat boy Deluxe mounted on truck and 84 Deluxe pull behind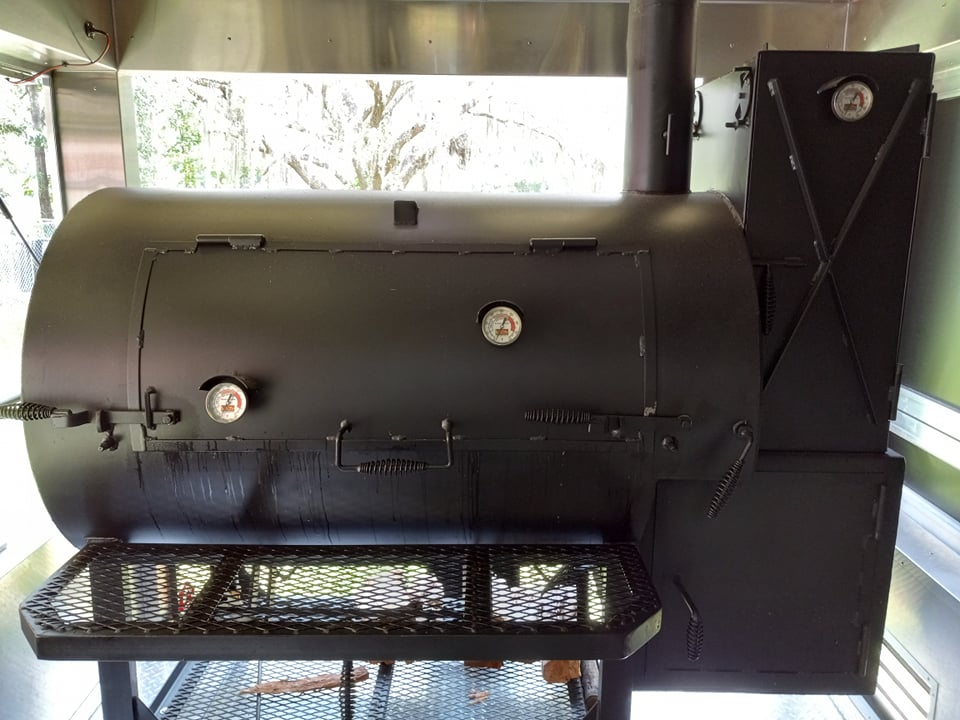 It all revolves around the workhorse
Lang: Looks like you are really sold out on Lang:
KD: Nothing better.
Lang: Is anyone else involved in your business:
KD: My wife Brenda, my daughter Megan whose 17,  my daughter-in-law Kayla, and really good friends who are the backbone in starting our business.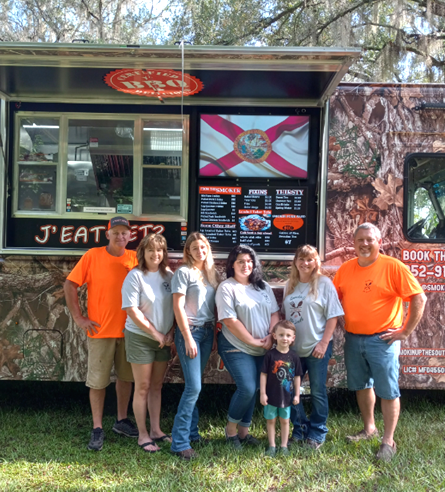 Lang: Any thoughts on the Reverse Flow:
KD: I didn't know much about reverse flow smoker or even Lang at the time. I bought a concession trailer from a private seller that had a Lang 84 deluxe on it. After several cooks on the Lang, I loved it, this bad boy will throw down, now we're off and running more parties and events etc.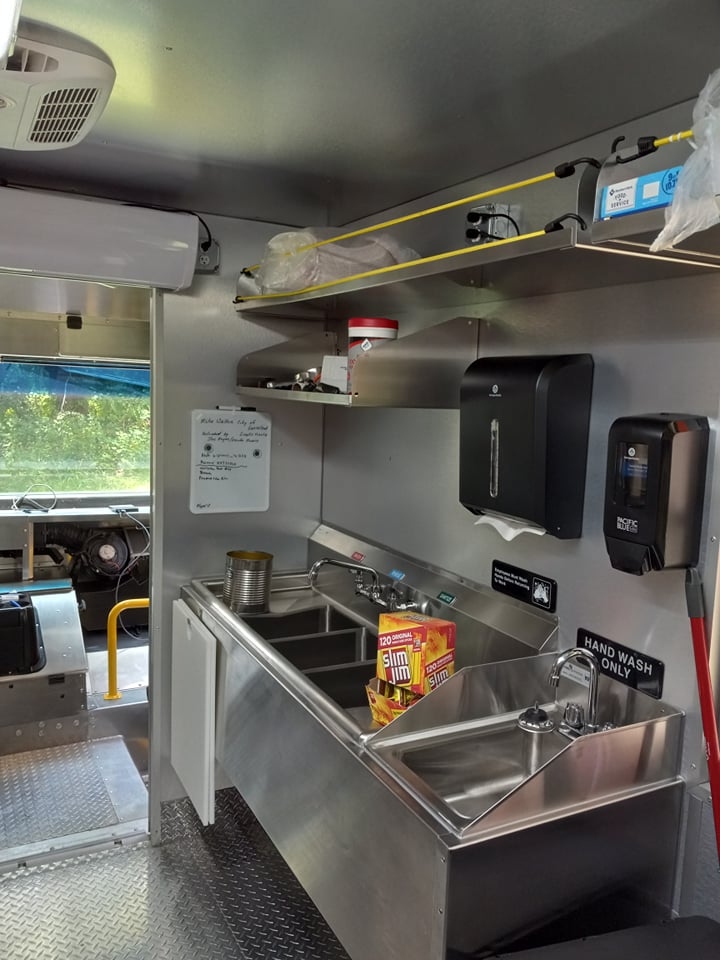 A big commercial kitchen on wheels.
Lang: Any advice to newcomers:
KD: Make a commitment, love what you do, get a Lang. And get one that is bigger than you think you'll need.
Lang: What is your goal as a chef:
KD: Serve the best fresh food every single time and make sure the meals taste the same every time. And I want to grow the business into other counties.
Lang: What do you mean by best fresh food:
KD: I see this a lot. You have a meal somewhere early in the week and it tastes fine. You go back later in the week, order the same meal and it doesn't taste the same. That's because they are re-heating the leftover meat. That saves the business money. I can't ever do that. I don't re-heat the left-over meats. I sell it to a butcher friend who has hogs. He gets a good price and I recoup some of my money, so it works out. We can say, and back it up, that we serve fresh food every day, never re-heated. That alone sets us apart.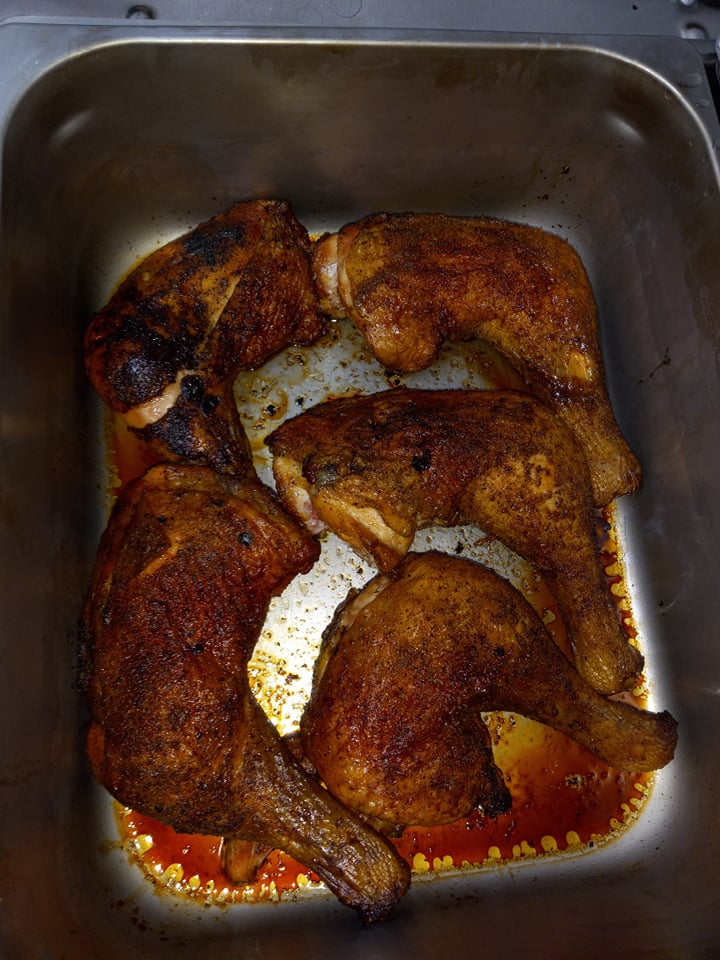 From chicken to ribs to every meal—always fresh
Lang: You mentioned doing events:
KD: That's a great part of our business. In Clermont Florida we do the Food Night. All kinds of food trucks show up, Mexican, Brazilian, you name it. Get a lot of exposure. Every Wednesday we go to a large trucking company. They have drivers there loading and unloading, sometimes 30 or more and we feed them from the truck. They are also in an industrial park, so we get people from other businesses too.
LANG: What are your favorite foods to prepare
KD: I like to cook ribs and our big hit is called CUP OF RIBS.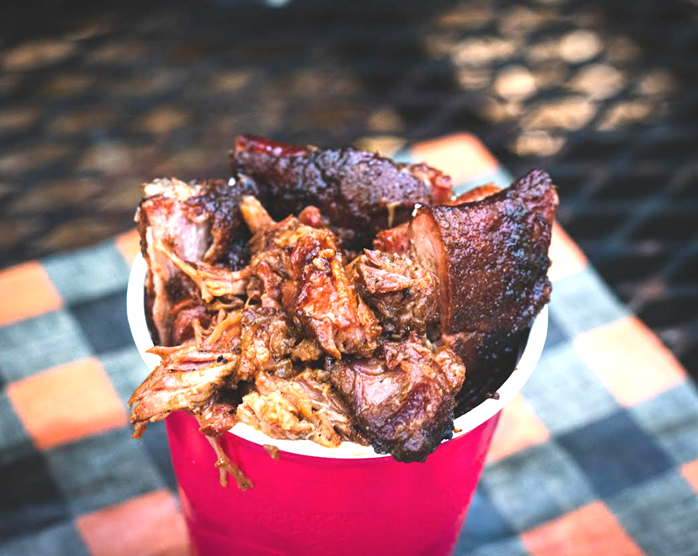 Ribs in a Cup or for your fingers