This month we have a unique interview with a barbeque business in Thailand. You'll find it interesting in comparison with barbeque in the states. We interviewed Daniel Bucher, Executive Chef and Food Sustainability Manager at Topgolf Thailand. Topgolf is an indoor golf facility franchise where fans of golf go and enjoy playing golf in a social but competitive environment.
A German in Thailand?
Lang: Did you move abroad after living in the USA? If so, what caused that?
DB: I have never lived in the US, only visited there. For the opening of Topgolf in Asia, I spent several months in US Topgolf venues to understand the business better. I am German and my current chef of the restaurant is a Thai national.
Lang: Is barbeque taking hold in your county or in your local area?
DB: Yes, we see barbecue becoming an increasing trend in Thailand especially. During the pandemic a number of new barbeque delivery services started, and post pandemic we saw more American barbeque places opening up.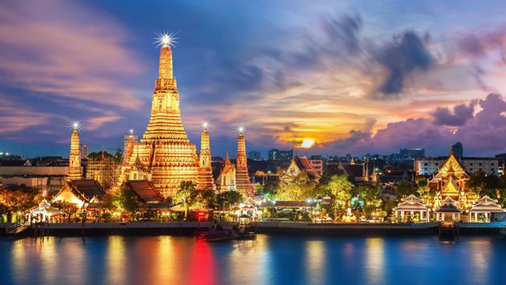 Lang: Are you cooking American style barbeque on your Lang?
DB: We are using the Lang in our Thai restaurant. Thai food is full of dishes with smoky flavors.
However, the techniques to achieve these flavors are usually cooking over open flame wood or
charcoal fire. We wanted to improve upon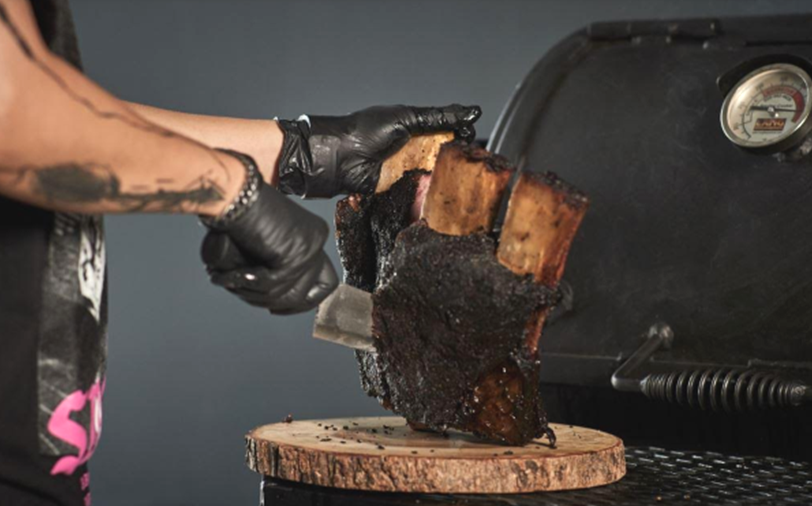 Pork spareribs smoked for 8 hours in Thai dry rub.
Thai smoky dishes by using the much superior
American barbecue style to create smoky ingredients that then go into Thai dishes. The smoking
techniques we are using are essentially American: we brine where necessary, we dry-rub,
we smoke, and we wrap in butcher paper. We also often use similar cuts like spareribs or
brisket.
Different Wood Different Flavor Profile
Lang: What makes it different?
DB: The different is that we use Thai ingredients for meats and rubs, we smoke with Thai
woods and we often use smoked meats as ingredients in dishes like curries or stir-fries.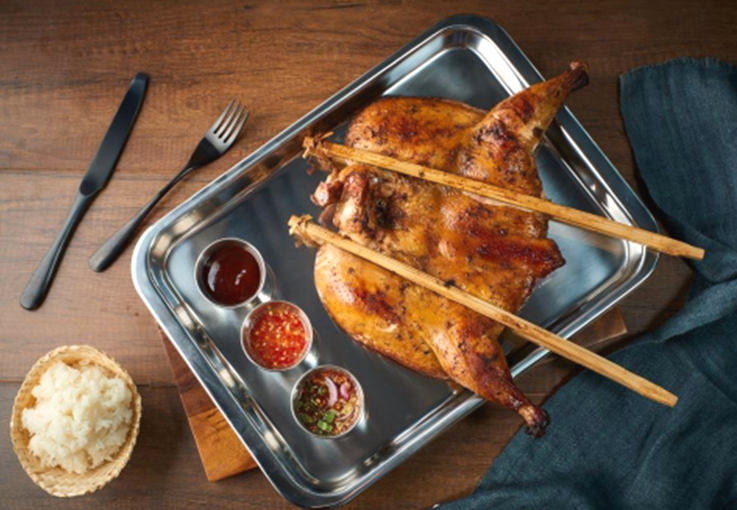 Marinated spatchcocked chicken with sticky rice.
Lang: What major differences do you find as a barbeque chef there, in comparison to the USA?
DB: I have never worked in the US as a chef.  I am the Executive Chef and Food Sustainability Manager at Topgolf Thailand. My chef runs the barbeque outlet and is Chef "Kong," full name: Pongtanat Thongsathit.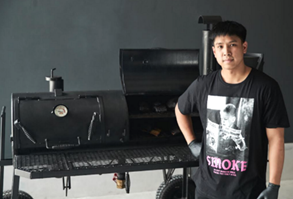 Chef Kong working on the Lang 36" Hybrid Deluxe with new recipes.
We are the official franchisee of Topgolf in Southeast Asia. Topgolf Megacity in Bangkok is the first opening for any Topgolf in Asia. In this Topgolf we have 5 restaurant concepts in addition to the core Topgolf concept. The barbeque outlet is called BUSTED!
BUSTED!!
Lang: What was behind the business and that name?
DB: The barbeque smoker is located inside a 12-meter-long bus. The original idea was to set up a food truck style serving area. When I was working on this concept, I wanted to make it something visually impressive and include a kitchen that is capable of running a full Thai menu for up to 250 covers in this area without problems. With this in mind, the food truck grew longer and bigger and finally we shaped the idea of building a full-size bus housing a kitchen and the Lang smoker.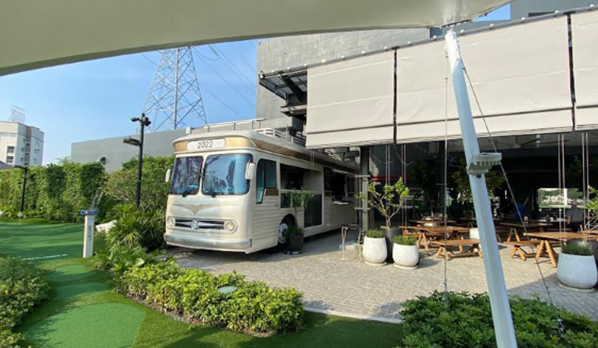 Just over 39 feet long, a mobile restaurant.              
Our food bus is named BUSTED! Stands for the amazing creativity and vibrancy of Bangkok's food scene, mixed with bold American barbecue techniques. The 12-meter bus is custom-built in Ratchaburi province, 140 kilometers West of Bangkok. It is modelled after the classic 1950s Thai white bus, an iconic landmark on Bangkok's classic street scene.
The result? Smoky, vibrant flavors. From Thai favorites to American barbecue classics – if you haven't had the food at BUSTED, you are definitely missing out.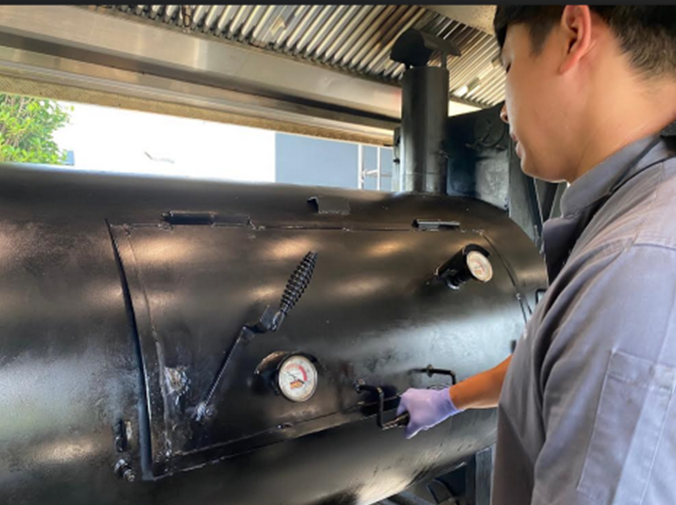 Chef Kong checks a cooking temp.
Lang: Where are you located?
DB: Topgolf Megacity, Bangkok, Thailand, less than 10km from Suvarnabhumi Airport, Bangkok's biggest international Airport
Lang: What drove you to start this business?
DB: We are the official franchisee for Topgolf in Southeast Asia. Bangkok is our first opening, and the first Topgolf in Asia.
Lang: Were you involved before you started?
DB: I have been interested in barbeque techniques for a long time. In my years as chef in several different hotels and restaurants across Europe, Australia, and Asia, I have often turned to barbeque to produce those addictive textures, smells and flavors that are simply unachievable any other way. In 2014 to 2016, I even opened my own restaurant and Bar in Bangkok. Back then I was using Weber grills to produce smoked base ingredients for many of our dishes. My Reuben and Pastrami sandwiches were well known as Bangkok's best.
Lang: What kind of chef were you seeking?
DB: When I decided to include serious American barbeque equipment in our setup at Topgolf Megacity, I was looking for a chef with great skill with meat and grill and an eager drive to increase his knowledge in real American barbeque.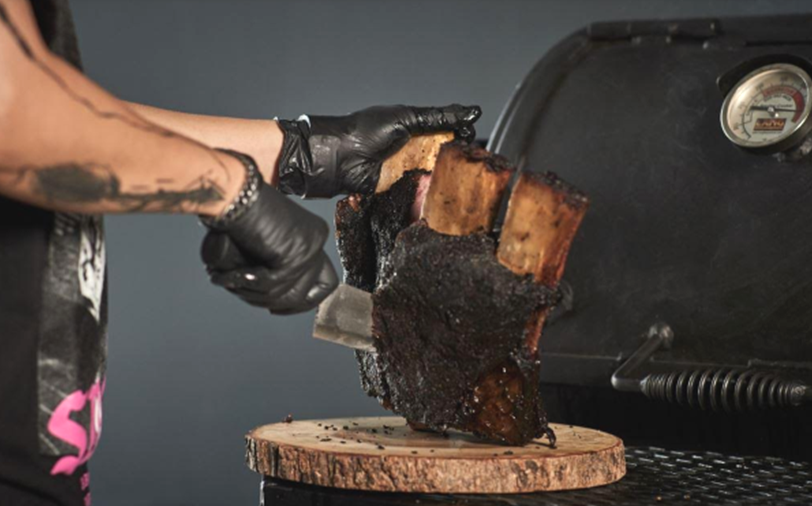 Perfect beef short ribs after 8 hours on the Lang.
Chef Kong had been working as sous chef in steakhouse restaurant in a 5-star hotel in Bangkok prior to starting with me at Topgolf. He had experience in grilling and cooking meats, both in Western food and Asian food. We have spent 2 months of research and development to improve our barbeque skill and understanding better on how to apply these techniques to Thai dishes.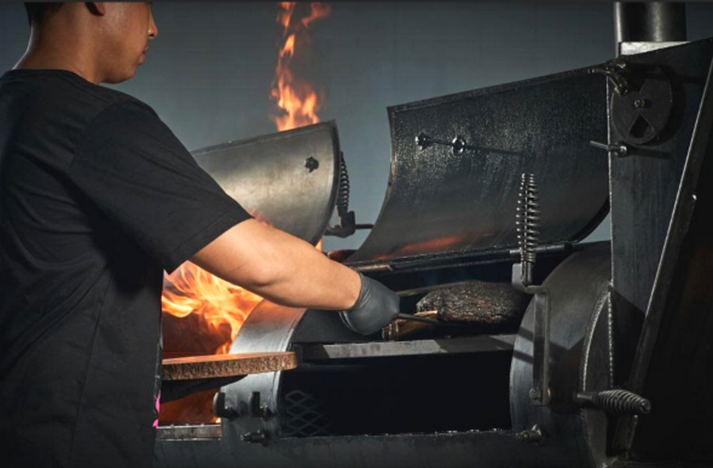 The Lang Hybrid Deluxe allows finishing in front of our guests
Lang: Do you have a partner?
DB: Topgolf Southeast Asia is a franchisee of the Topgolf brand, headquartered in Texas USA. More information about our Asia business setup can also be found on our TG SEA development website: https://tgseadevelopment.com/
A Whole Day of BBQ
Lang: What makes your business unique?
DB: Casual all-day dining, and beer garden at night. Comfortable indoor and outdoor seating amidst greenery from The Puttyard. Bold Thai dishes from the food bus meet healthy comfort food and international classics. The perfect place to escape from the city bustle, play games with friends and family, catch up over brunch or beers, co-working over coffee.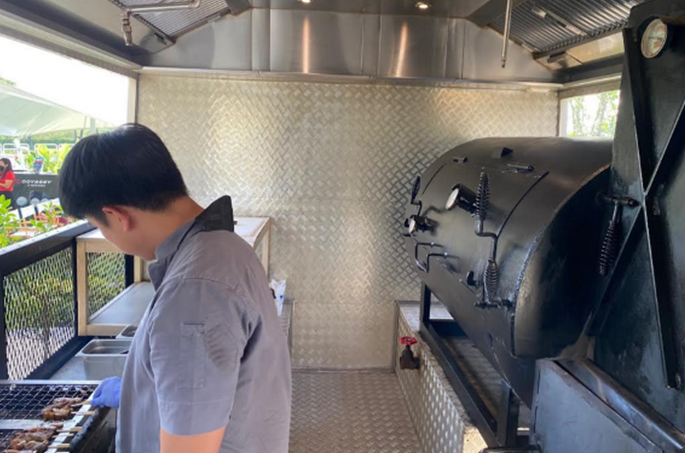 High-end stainless-steel kitchen with daily offerings.
Parked at The Patio, Topgolf's unique food bus – named BUSTED! – serves guests with vibrant Thai dishes. American barbeque techniques give memorable Thai recipes an extra punch: smoky, spicy, delicious! Or come for the ribs, steaks and other wood-smoked barbecue classics prepared on the American competition-grade Lang smoker.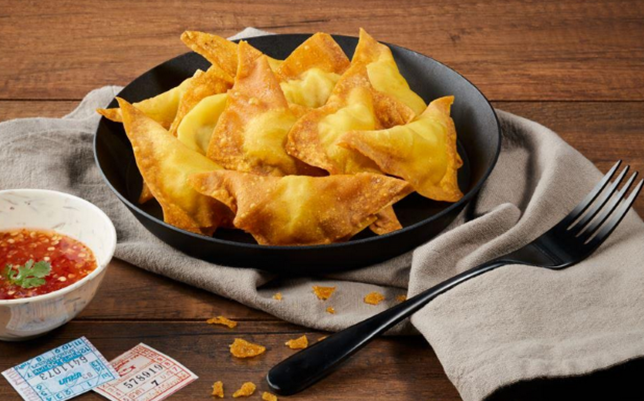 Giewn Thord, crispy pork wonton.
Lang: What is most challenging about running your business?
DB: Since we are located within Topgolf, we had to build a restaurant that offers low-and-slow barbeque at high volume and fast pace. It is challenging to come up with the right number of meats to smoke and prepare daily, to make sure we have enough for all our guests but also no wastage or leftovers.
Lang: How did you go about starting the business?
DB: While Topgolf is a great and successful concept in the USA, we had to create from scratch what a Topgolf experience feels like to our guests in Thailand. In Thailand, food is a hugely important part of life and a big entertainment center like Topgolf is expected to be able to cater to many different cuisines at the highest culinary level. We workshopped many different ideas and discussed them in our management teams. Slowly, our final concepts took shape.
Lang: What were the pitfalls you didn't expect when you went into business?
DB: We were well prepared and well supported from investors, Topgolf international and consultants alike.
What is your tip for newcomers?
Lang: What would you recommend to someone new that is getting in the business?
DB: Someone planning to open a barbeque joint – Spend as much time in research and development with your smoker as you can. Consistency is key in any food, but especially in something as simple as barbeque. There are many different ways to screw up a cook with results that are too smoky or not smoky enough, too soft still chewy, or overcooked. Cooking with fire requires a lot of experience and skill to read the conditions. It is very unlike setting an oven dial and a timer – it requires feel! The more time you spend with your equipment, the more cooks you do, the better and more consistent your results will be.
Lang: When did you first purchase a Lang?
DB: I have always wanted a top-notch reverse flow smoker. When working on this project, it was the perfect opportunity to finally place the order! We purchased The 84" Fat boy and a 36" Hybrid in January 2022, put them in a container and shipped them to Bangkok. The units arrived here in late July, and we opened the venue in August 2022.
Lang: What Lang(s) are you using currently and in what way?
DB: We are mostly using the 84 Fat Boy Deluxe. We use it for production off all barbeque menu items. These include Pork Ribs, Chicken Thai style ('Gai Yang'), Brisket, Short Ribs, Pulled Pork and Burnt Ends. We also have a Lang 36" hybrid Deluxe here, which we use for smaller groups or private cooks or to go to outside events or parties.
Lang: What features do you like best about Lang?
DB: I love the Extra-large cooking cylinder on the Fat Boy Deluxe. We can produce a good, solid amount in one cook, at one time. The warmer box is also a great feature. We use it for holding finished cooks, but also for smoking fish or seafood at lower temperatures at the same time as running big cooks in the cylinder.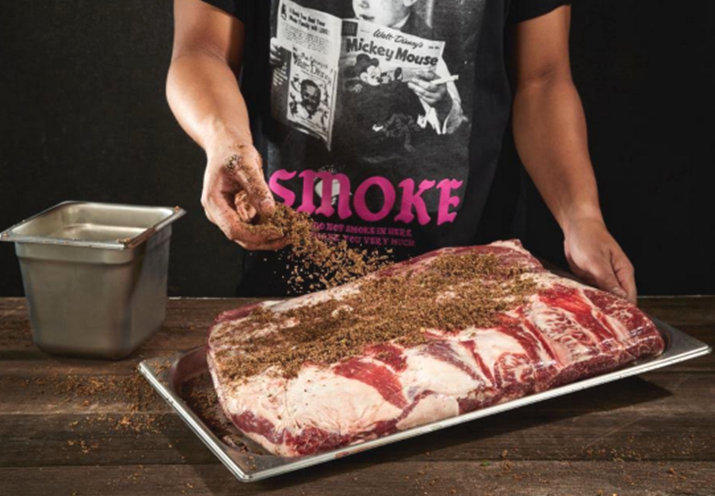 Thai Dry Rub one innovation that makes this barbeque unique
Lang: What can you share about the Reverse Flow process?
DB: Reverse Flow process is fantastic. It makes the internal temperature extremely stable in almost every spot inside the cooking cylinder. In other stick burners I have worked with in the past, we had to have a system of moving product around during the cook to guarantee similar cook times. You don't want to move meat mid-cook! It almost certainly leads to inconsistency in texture and flavor and frustration. Another thing we love is adding a tray of ice to the warmer box while smoking in the main cylinder – a great trick to cold smoke fish, seafood or meats that will be grilled on point later.
Lang: What is your main goal?
DB: My main goal is to make food that makes people happy!
Lang: What are the favorite meals you like to prepare and why?
DB: We have also started to work on a number of plant-based recipes with the Lang. While vegetarian and vegan food features a whole range of flavors, it is often the meaty and smoky flavors that are hard to replicate in vegan dishes. Smoking the main ingredients like tofu or vegetables has allowed us to make richer, more delicious vegetarian dishes. My favorite preparation at the moment are our barbeque young jackfruit Tacos. Young jackfruit has a fantastic texture when cooked – very much like pulled pork. We marinate it with achiote paste, garlic, coriander, cumin and soy sauce. The tacos are so delicious to anyone – no matter if vegetarian or not!
Lang: Are you involved in any competitions?
DB: Sadly, we have not seen any barbeque competitions relevant in our region. We would love to get involved or even host one in the near future.
Lang: What can you share about the barbeque community as a whole?
DB: In Thailand, barbeque is fairly new to market. So far, there is very few people actively involved in barbeque, not much of a community. Globally however, we have received great feedback and responses from many people when we needed help. Particularly other enthusiasts on the Lang Facebook community have been generous with ideas and tips whenever we reach out with questions.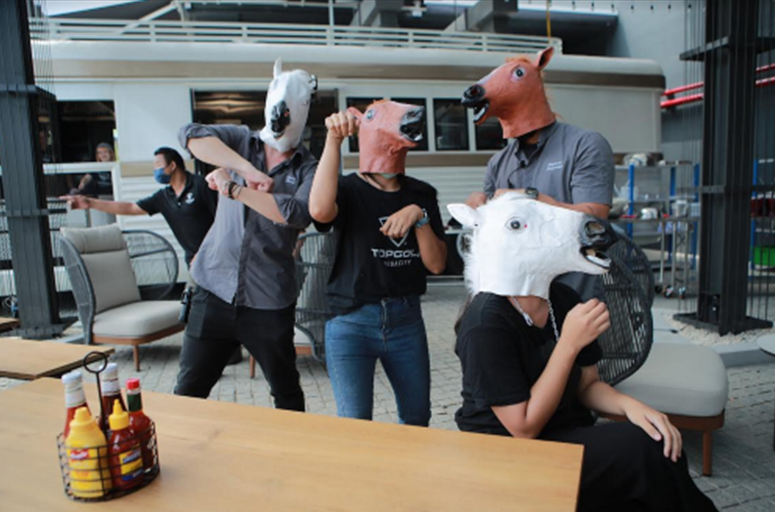 A little bit of horsing around generates enthusiasm.
Lang: What type of wood do you like when cooking?
DB: We are smoking with a wood mix, we now call "Fruit Salad." For BUSTED! we were keen to explore the flavors of Thai woods to create a local Thai barbeque flavor – one we are proud to serve today. We tried many different types of wood and compared the result in flavor and color of meats and fish. We were looking for something savory yet hearty with a strong smoky tang
while also supporting more subtle meats like our barbeque Gai Yang chicken. The secret of our selection is a mix we call "fruit salad." We settled for this combination of green mango and lychee wood. To celebrate this incredible blend, we created a mango and lychee spicy salad to go along with our delicious, barbequed meats.
Lychee wood gives a spicy and smoky flavor, not too strong but distinct. It leaves enough room for the dry rub to develop and shine, it does not overpower the herbs. Lychee wood is dense and burns for long time and we start our cooks with lychee. Mango wood gives a fruity, sweeter flavor. It supports the meaty smell of pork and beef. It burns shorter and we add it later in the cook.
Lang: Can you share a recipe with us?
DB: Please see here the recipe for our THAI STYLE DRY RUB .