Back Beach BBQ
Business should be a dream realized as Back Beach Barbecue has experienced.
"Without any doubt!  It has been our pleasure to bring real, Texas-style, slow-smoked barbecue to the Panhandle of Florida.  The feedback from our guests has been overwhelmingly positive, and they have welcomed us into their communities with open arms!" Susan Engle recently made that statement in a Lang interview on how her business came to be. Her statement came true after much dedication and hard work, as it would be with building any business.  Back Beach Barbeque in Panama City Beach, Florida is no exception.
You have to strike a match before you can start a fire. That's a business principle.
Susan had a dream. Starting Back Beach Barbecue had been dancing in her head since 2012/2013.  She worked on the concept with her partners which led to finding the right real estate. The space was formerly occupied by Coram's on Back Beach Road. Closing the deal on that prime location they worked together to build out the space and invested research in a range of methods and recipes they would prepare in house. Now a staff was needed and the vision came to the point of opening for business in June 2017, and amazingly that was only 90 days after purchasing the property. "It is hard work!  However, the greatest satisfaction comes when guests look you in the eye and appreciate all of the hard work that goes into what we do.  We are incredibly proud of what our team accomplishes on a daily basis in the restaurant, at catering events, and at the numerous festivals that we take part in with our food truck," Susan added.
When you have a business dream you can't afford to fall asleep
It's about solid planning, good research, great team and top notch equipment. Every detail, not all of it fun, must be thought through carefully. If you believe it you will commit to make it happen. With any business, there are always challenges to face and overcome from getting started to continuously operating successfully. When running a restaurant that serves as many guests as they do at Back Beach Barbeque on any given day, they have learned that even lighting a fire in their Lang Smokers early in the morning is not an easy task.  Being located on the beach they have to factor in the 30-40 mph winds and pouring rain that comes in off of the beach on many days; it certainly keeps them alert.
You can't be productive without the right equipment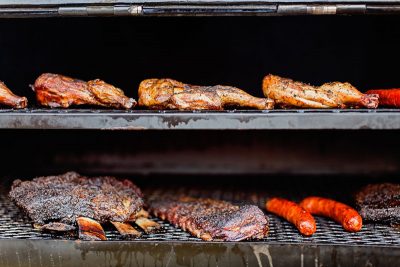 Back Beach Barbeque works with three Lang Smokers. Susan says that the Lang Smokers that they own are the cornerstone of everything they do: the restaurant, catering events, and food truck operations. The Lang reverse flow process is the key to cooking success when it comes to taste profile. It takes a solid plan, good preparation, excellent people and of course top-notch equipment to succeed in business. For a long time, Susan wanted to replicate the barbecue she had experienced when visiting Texas years prior.  "I always had a passion about true stick burning barbecue.  I knew that quality meat left alone and cared for would produce our best outcome.  I did a lot of research about smokers/cookers, and kept coming back to Ben Lang.  It has been an education and a fantastic partnership.  It was my family's pleasure to go to Nahunta and meet with Ben," recounted Susan.
Back Beach Barbeque currently runs with a Lang 84″ Deluxe with char grill and vertical smoker (special edition).  They also have a 108″ Deluxe and 108″ Original, both with canopies. They especially enjoy the performance of the offset and ability to put a water pan in for moisture. Dedicated to the old fashioned classics, Back Beach Barbecue's menu is simple, yet refined with six sides: potato salad, coleslaw, macaroni and cheese, pinto beans, brisket Brunswick stew and collards. To top it all off, there's a homemade dessert menu, wine and beer options, and classic sodas such as Topo Chico and Grapico.
Business is about attention to details
The team behind Back Beach Barbecue is dedicated to providing friends new and old with great barbecue, served with a side of Southern hospitality. Diners order from a chalkboard menu at the counter, and watch the slicer hand cut their selected meats to order. Guests receive their meals on butcher paper that is placed on an old-school-style cafeteria tray. The meats are rubbed with a simple blend of dry spices, then smoked low and slow in the pit over locally sourced oak wood. Meats include brisket, pork, chicken, sausage, turkey and ribs. For those looking to add sauce to their meats, Back Beach Barbecue offers four house-made sauces: House, Spicy Three Pepper, Carolina Mustard and an Alabama White Sauce made with Grayton Beer Company's Beach Permit Blonde Ale. Back Beach Barbecue has been proudly slow smoking delicious barbecue in their Lang Smokers featuring 12-hour slow cooked meats, simple homemade sides, and four sauces (all of which are made in house). The restaurant offers catering for private or corporate events, a fully equipped food truck, and delivery service to offer all the sights and smells that Back Beach Barbecue has to offer.
They are well known for the wood fired Lang Smokers that are positioned just outside the front door near a covered patio. The Lang Smokers are on display year-round, with smoke billowing out of the sides all day, every day. As customers cruise by the restaurant, situated on famous Back Beach Road, they're greeted by those two large Lang Smokers alongside one smaller, which is used for catering events. Whether customers stop in for a bite to eat, or have barbecue at their own location, Back Beach Barbecue is always ready to deliver a good time with great food.
You run a business the same way you barbeque (so to speak).
It's all about preparation and delivery:
What will set your business apart from others?
How well are you prepared?
How will you handle what you don't know but need?
Have you identified a real need?
Who will your suppliers be?
Where is the business going to be located?
How will customers know where you are and what you offer?
Who will you be serving and how?
What people, training and equipment will you need?
What budget are you working with?
How long will it take to launch?
Are you in a position to stay the course mentally and financially?
Do you have all the paperwork, requirements and insurances required?
That's obviously the short list. But if you truly have a business dream then you will prepare properly. You will find a way to endure. You will deal with the tough times and savor the good. And if customers speak well of you, give you return business and send referrals, then you are definitely on the way to a 'beautiful meal.'