U-Needa BBQ
Well my little BBQ story starts this back in 2010.
I had never thought about cooking BBQ or even really liked BBQ until the first season of BBQ Pitmasters. I told my wife, phsss I can do that. Her response was classic, "no you can't you can't cook grilled cheese without burning it." True, still can't cook a nice grilled cheese either burnt or not even close and the cheese isn't even hot.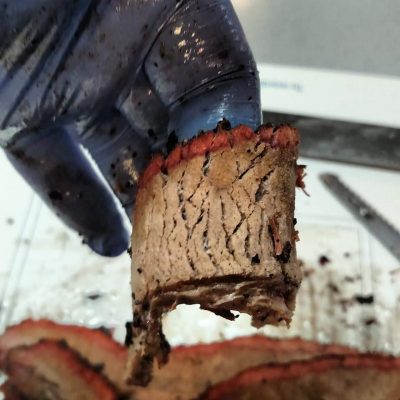 Watching the show back then, there wasn't much on the now famous YouTube to show anything much. I'm sure I'm not the only one who had this bring game got idea, I'm going to learn and roll with the big boys. Now where can I get $10,000 for a grillvette (Jambo) as Tuffy called his. Of course, the wife laughed and said please do not be stupid, master not burning popcorn please.
Anyhow, we settled on trying to make ribs and sauces, easy right? NOT! After countless nights of upset stomachs, and otherwise plumbing problems we did make s few of each that are good and people enjoy. My Tangy, and Peach Pit sauces. Three rubs, a peach rub, coffee brisket rub, and chicken rub. We can only make the n small batches because of price to produce. A while another story.
Back to cooking. One I stopped destroying grilled cheese, and scorching popcorn my wife decided I could get a small smoker. Whooo woo! Man, I was tearing up the internet up with companies with any type of cooker. Every night printing off and showing her the latest and greatest only "I" could find and nobody else had. Sure, I was right! I was met with the same answer, "Uhm No, we can't afford that what if you can't do it or get tired of it?" I assumed she knew me, I never start a project or hobby and stop in the middle because I get bored, or something new catch's my eye. So, after we discussed my failings, we decided on a char-broil off set from wonderful Walmart! Boy I was hot stuff then I found one at a local dump and fixed it up, now I had two cookers. Yes sir, Tuffy and Myron I'm coming for you!
I ruined soooooooo much meat, the poor buzzards around the house couldn't fly they were so over weight, or it was like Old country buffet either way they were FAT. Time to get cook books, thank goodness they have pictures. At the time "The BBQ Bible" was really the only BBQ Cookbook out, sure there were others but not what I wanted to aim towards. There were several times where the author stated go to a cook off, see what they do, try and talk to them understand there's a difference between eating BBQ and competition BBQ. Being from Maryland now living in VA, there weren't many close to me according to the show pit masters.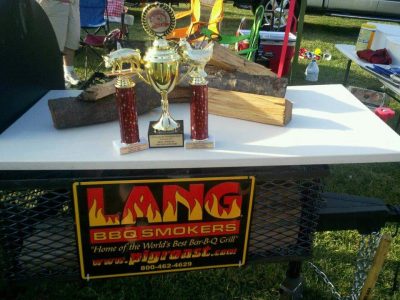 Then I here'd on the TV about the BIG DC BBQ BATTLE! Come and see Tuffy, Myron, Johnnie Trigg, Lee Ann, and all of your Pit asters stars. Told the wife, if we are serious about this we need to go and see what this is really about and try and get some ideas if they'll let us. As we went through gates I was in awe, seeing the cookers in person, and trying not to stare at Lee Ann with wife being there. Tried to talk to Myron, we'll we all know Myron. Saw Tuffy, he actually spoke with me. Tuffy asked to see some pictures of my "food" he said well not bad but not good either. He asked what in the world was I thinking and what I was cooking on? Told him two char-broil off sets and how I was preparing the meat and my process was. The first thing he told me was a few pointers then "get rid of those junk cookers and get a Lang!" Tuff told me he got his start on one, my food and cooking experience will be sooo much better. He was right! I love my Lang! Later that year I ordered up my Lang 60D.
My wife and I couldn't afford the competition life without some type of additional money. So, we decided to start a little catering company out of the house named U-Needa BBQ our slogan is Tens of People Love us, because that was our customer base only about 10 people would order. We decided to just cook for friends, family and people we knew. Mainly because if they got sick, they wouldn't sue us, or get too mad. We were ok on the competition trail, always middle pack maybe sniffing the top ten. We did really well in the chicken and rib competitions.
As we got a little bigger, cooking for local business and catering Christmas parties we had to branch out. We contacted local fire houses and rented their kitchens so we could be health depo. Compliant. If you'd ask what was our favorite cook job so far? I'd say we did a "taste test "for the NFLPA, national football Players Association. We didn't get the job but it was a cool experience. We haven't expanded very much, over the years, we still cook either out of the kitchen or rent kitchens depending on the job. We cook about 5-10 jobs a year, anywhere from. 30-250 people all on my Lang 60D.
Tuffy Stone was, and still is right. You'll love the Lang. Today I still love the competition trail, I help teams out and keep close friends with a lot of the teams on the east coast.  I think if you want to learn how to cook good BBQ, get a Lang of any size. Practice, and watch YouTube you'll learn a lot. Learn competition cooking, it'll help with time lines, temperatures, what each product should look and taste like.  Sorry if I got a bit long winded, I love tell the story on how we got where we are or wanna be some day.
– D.J. Watkins