Jimmy's BBQ
Malvern, PA is located twenty-five miles west of Philadelphia. Drag racer "Grumpy" Bill Jenkins had a repair shop here in town, and NASCAR crew chief Pat Tryson is from Malvern. It's also the home of Jimmy's BBQ. We had the opportunity to ask Jimmy about his business.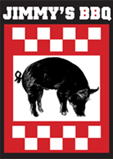 Lang: How did you chose the business name?
J: I wanted something that was Identifiable with me, and there are not many other BBQ places nearby.
Lang: What drove you to start this business?

J: I wanted BBQ, but couldn't find any BBQ, so I started making my own.  Being from Connecticut, I didn't have any BBQ reference. I started out in my backyard and well, made some horrible "BBQ." I visited Charlotte NC in 2000 and saw a smoker at a gas station.  I came home, went to Home Depot and bought a $150 smoker.  We started having parties 3 weekends a month at the house and I worked on my barbecue craft.  As time went by everything got better.  I started catering for friends and it became popular.  So, working from my backyard, and working a day job, with an 18" smoker, I fed a couple of thousand people over the summer.  The next summer business picked up and I couldn't keep up working my day job and catering, so with my wife's blessing I quit my job and began my quest to open a BBQ restaurant, and nearly 14 years later here we are.
Lang: Were you cooking/BBQing before all this?
J: I had cooked and managed 2 different pizza/sandwich/hoagie restaurants.  I did prep, line, and management.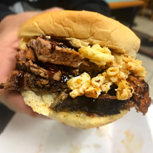 Brisket with Mac & Cheese
Lang: What would you say makes your business unique?
J: We are the only authentic wood smoked BBQ caterer/restaurant in the area. But outstanding customer service and fantastic food makes us stand out.
Lang: How did you go about starting the business?
J: I worked with a CDFI (Community Development Financial Institution) to gather funding and help me work on a business plan.  I also asked friends and family for seed money to get started.  I had been catering for a couple of years, and I was in the food business for 13 years, so I was aware of food and labor costs guidelines.  After looking around for the right location I found a spot 2 miles from a corporate center with 68,000 jobs. This proved to be a winning move because it guaranteed a steady lunch business, plus the fact that everyone lives nearby, it was a good dinner business too.  Because of my catering there was good amount of Word of Mouth about my business. WOM is very important! We are a full-service restaurant and catering company.  We are open 7 days a week from 10 am-8 pm.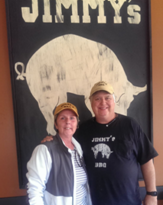 Jimmy and Donna Suarez (a Police Officer) at the Hamilton Park BBQ Festival
Lang: What were the pitfalls you didn't expect when you went into business?
J: The biggest pitfall was estimating how much meat I had to prepare every day.  Because of the volume we do and have done from the beginning, keeping inventory was a challenge.  The biggest pitfall is that I underestimated how big of a walk-in I needed.  I only have a 6×8 walk-in.  That is still a challenge to this day. And of course, there were health codes and licenses and so on.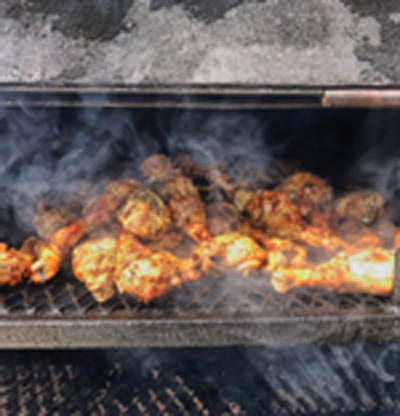 Chicken getting reverse flow benefits
Lang: What would you recommend to someone new getting into the business?
J: Make sure you have a good cash reserve!  Starting out can be challenging. If you haven't done preparatory marketing: getting folks excited about your BBQ, it can be a slow start. Try not to get the whole family involved.  It's hard to fire your brother.  It's also good to have another income to rely on in the beginning.  Catch up on your sleep now.  There will be many long days.  Although, if this is your passion (as it should be) you won't think of it as "work." I'm in the restaurant 7 days a week but haven't "worked" a day of it. There have been many long, tiring days but I enjoy what I do.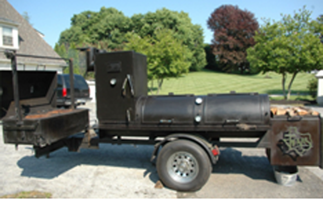 Lang: When did you first purchase a Lang?

J: I needed a 2nd, and a 3rd smoker to keep up with catering jobs.  I got the Lang 60" because of its size.  Easy to tow and great for small jobs.  Because of its size it is good for smaller small quantities of meat. I use them primarily for catering jobs.  I also use them during peak times to back up my Ole Hickory SSE.  Sometimes I just run out of room in the SSE. I also have a Lang 84".
Lang: What features do you like best about Lang?
J: Great smokers.  Holds heat well and I have never had a problem.  The 60" heats up quickly and gets the job done.   I use the 84" for big catering jobs and festivals.  The 84" is a work horse.  I love the access from both sides and the sheer quantity of food I can get in there at one time. The reverse flow gives you a major advantage in food quality and taste.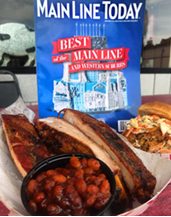 Barbeque that advertises itself
Lang: What is your main goal as a chef?

J: Obviously preparing and serving the best BBQ I can.  Keeping it fresh.  Not over/under prepping.  Customers get finicky if you run out of items too often.
Lang: What are the favorite meals you like to prepare?

J: Brisket.  I consider Brisket to be the truth teller.  Pork and ribs are more forgiving than brisket.  As we all know, a good brisket is a wonderful thing.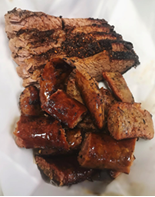 Smoked brisket with hot sausage
Lang: Are you in competition?

J: None.  We are too busy catering to participate in contests.
Lang: What type of wood do you favor when cooking?
J: Hickory and Cherry.  It's all we use.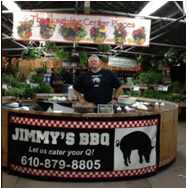 At the Exton Waterloo Garden for Christmas
Jimmy's BBQ delivers meals with a love for cooking barbecue and satisfying customers.