South of Heaven BBQ
Serving up in Carrollton, Georgia
Judd Foster grew up in upstate New York. He started helping his mom in the kitchen at an early age and quickly found a passion for cooking. It wasn't until 2000 that he fell in love with the art of barbecue. He competed in multiple barbecue competitions before moving to Atlanta in 2001. Being in the south, he began to learn and practice traditional southern barbecue techniques. Judd prides himself in being self-taught.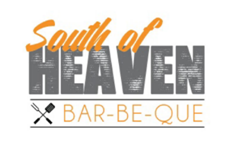 South of Heaven BBQ is located in Carrolton Georgia's historic Maple Street Mansion which is less than a mile from the historic center. The city was going to tear down this beautiful Victorian mansion that was built in the 1800's by the Mandeville family. The city residents signed a petition to not tear down the historic site. Now, located in the mansion, South of Heaven is finally bringing new life back to the beautiful mansion.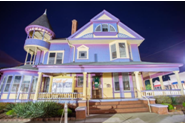 Historic Maple Street, Carrolton Georgia                  Maple Street Mansion
In 2014 Judd met Kate, who is from Atlanta, and was therefore born with a love for barbecue. Together, they decided that his passion should extend further than their own kitchen. Soon after their wedding in 2015, South of Heaven BBQ was born!

Judd and Kate Foster
Judd and Kate focused on catering in the Atlanta area as well as setting up shop at local breweries and festivals. In January 2017 the Fosters added a new member to the SOH family, their son Charlie. Also, in 2017, South of Heaven was named "Best Caterer in Atlanta" in Creative Loafing. Flash forward to January 2018, they decided it was time to take the leap. In May they opened the doors to their first brick and mortar.
A small hole in the wall attached to a laundromat in Carrollton, GA which they quickly outgrew. Shortly after, they were named "Best Barbecue" in Creative Loafing. They have a thriving business. We caught up with them, (which is no easy task since they are busy all the time) and were able to gain a few thoughts to share.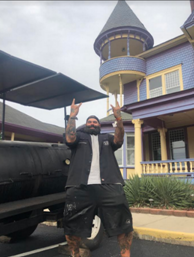 Flashback: Judd's excitement at getting the Lang 108 into the mansion
Lang: What drove you to start this business?
Judd: I've been playing with fire since I was a boy, making maple syrup with my dad and grandma.  Then I switched to animals when I was 16.  I would say the passion for my wife and I is what drove us to start South of Heaven BBQ.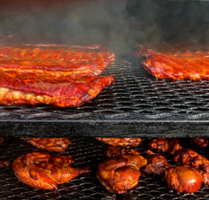 Ribs and chicken getting pretty, served fresh daily
Lang: Were you cooking barbeque before starting in business?
Judd: I did some competitions in the past when I was living in NY.  Lots of ruined briskets in my backyard. South of Heaven BBQ started as a catering company out of Atlanta.  We were named best caterer in 2017 and then went on to win best BBQ in 2018.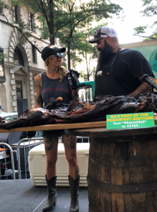 Kate and Judd do a demo on Commercial Farming verses Heritage breed pigs at Peach Fest Atlanta
Lang: Is there a partner in the business?
Judd: Yes. My very talented, beautiful and hardworking wife Kate.
Lang: What would you say makes South of Heaven unique?
Judd: We are traditional all wood fired southern BBQ. We put a unique and personal spin on BBQ classics.  I am from upstate NY (shh don't tell anyone) and Kate, my wife, was born and raised in Atlanta so it is almost like two worlds combining to create one great menu.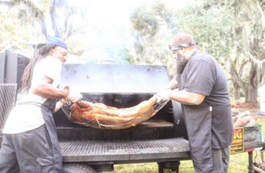 The talented Bryan Furman and Judd putting a whole hog on the Lang 108 at a bake-off
Lang: How did you start your business?
Judd: On a wing and a prayer..!
Lang: Can you give some background on your business?
Judd: South of Heaven BBQ is a labor of love.  Our focus is the food.  Food for every mood.  Taco Tuesday? No problem.  Traditional comfort food? We've got it.  Our burgers are on point.  As we grow, we still try to stick to our roots. (attached to a small laundromat).  We love marrying different flavors to create a party in your mouth.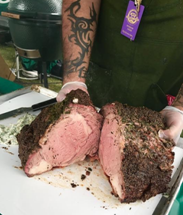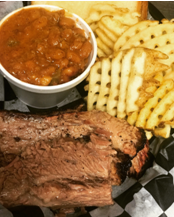 Prime rib Judd cooked with Dr. BBQ in Memphis           Sliced brisket, fries, chorizo charro beans 
Lang: What were some of the business problems you didn't foresee?
Judd: Staffing! We have to constantly remind ourselves that not everyone is as passionate about our business as we are. Also, barbecue is an expensive art.  So many people think of it as the cheap go to dinner or lunch option but on the contrary. Then you've got to deal with licensing, state and local requirements, safety and health department issues. There's a lot of detail that you can't overlook.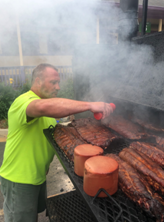 Dave Kruger helping to mop out ribs, learning BBQ 101 with Judd and Kate
Lang: What would you recommend to someone about to start a BBQ business?
Judd: In our case, it is a family business so I would recommend making time (mentally and physically) for yourself and loved ones.  Give your whole heart.  And always remember why you started the journey in the first place.
Lang: When did you first purchase your Lang; what model and why?
Judd: We first purchased our Lang 108 about 2 years ago in order to maximize our cooking space.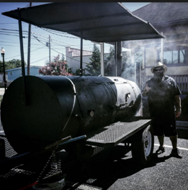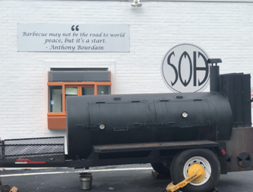 Judd in his daily cook regiment                  The Lang 108 ready for action
Lang: What Lang are you still using and how?
Judd: Still using our Lang 108.  She stays rolling almost 24/7 full of pork shoulder, brisket, chicken, sausage and ribs.
Lang: What features do you like best about Lang?
Judd: Its consistency.  When it comes to holding temp and finished results. That's one of the many advantages of Lang's Reverse Flow technology.
Lang: What is your main goal as a chef?
Judd: I'm not a chef.  I have a passion for cooking with fire and a passion for always improving.
Lang: Do you have a favorite meal to prepare?
Judd: I love cooking brisket.  It also happens to be a fan favorite.  My personal favorite is smoked tri-tip or beef cheeks.
Lang: Are you working on any new projects?
Judd: We are working on a new concept called "Risky Business" by South of Heaven.  An 80's themed bar with arcade games, pool etc. Risky Business is going to be a pizza joint to celebrate my Sicilian heritage while using smoked pork, brisket, sausage etc… as ingredients in our pies. It's located in the back half of the mansion.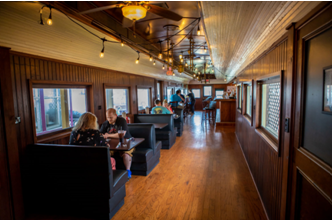 Train car bar at the South of Heaven mansion
Lang: Are you in any competitions right now?
Judd: No competitions as of right now, however we have participated in Memphis in May and Cochon 555 events. Cochon 555 is a heritage breed pig festival. They invite the best chefs/pit masters to do live fire cooking. We have done it 2 years in a row. One in Atlanta the other Rhode Island this year. We prefer cooking to fill people's bellies not for judges.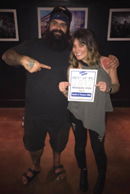 Judd and Kate accepting the Best Caterer in Atlanta
Lang: What can you share about the barbeque community as a whole?
Judd: The barbecue community is a family in itself.  It's really awesome to see fire and meat bring people together.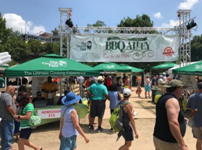 Barbeque Alley in Memphis
Lang: Can you share a recipe with us?
Judd: One of our customer favorites is our Smoked Chicken and Swiss with Broccolini.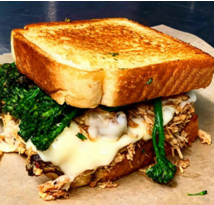 Smoked chicken and Swiss w/broccolini