There is an interesting place in Washington County, Minnesota, called Lake Elmo. The city began with one farm in 1852. A large portion of the city limits remains farmland which portrays a tranquil, rural atmosphere. Somewhat obvious, the city took its name from Lake Elmo. It's airport, during WWII, was used by the U.S. Army Air Force.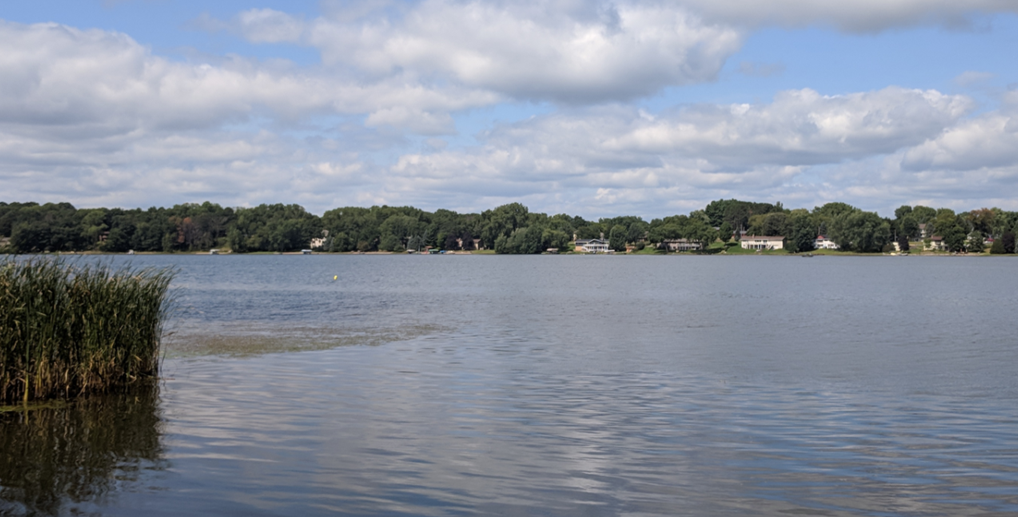 Lake Elmo MN
It's just a great place to serve barbeque and a husband-and-wife team are doing just that: JC and Jessica Rivera. Their business is, The Saltbox BBQ. Working with their food trailer, the husband wife team are sharing their amazing barbeque delights with many residents in and around the Twin Cities Metro area.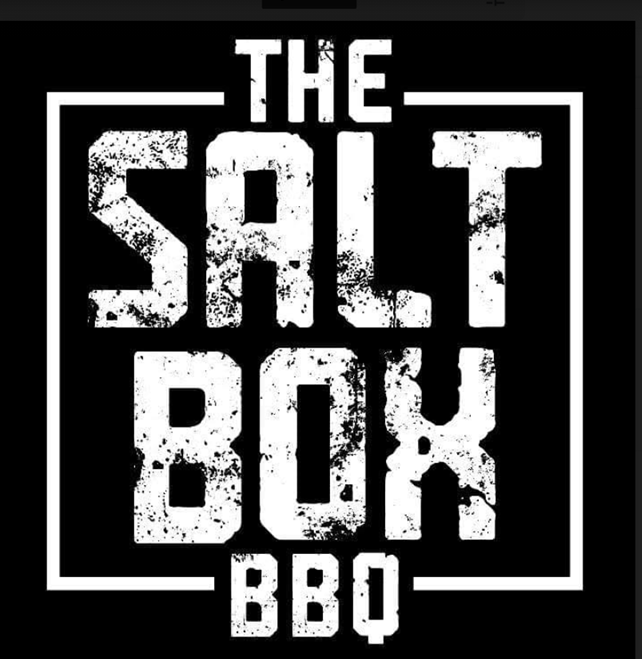 In our conversation with them we asked how they came to choose the name for their business. They provided an interesting response: "Salt is essential to all cooking, and we loved the idea of calling our food trailer the saltbox given its shape."
The couple wanted to open a food business, and in the process, they fell in love with cooking barbeque. JC became interested in barbeque a few years before they opened their food trailer. He began by building his own smoker from an unused oil barrel and used a kit specifically for barrels to build that first smoker. Barbeque became an obsession and after some research they found Lang Smoker Cookers and have never looked back! During our discussion we covered some interesting background with JC and Jessica.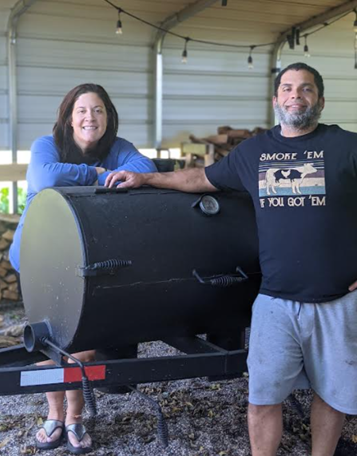 JC and Jessica with the Lang 84 Deluxe with char griller
Lang: What would you say makes your business unique?
JC & Jess: We are unique to our area because we use a stick burner vs. propane like most barbecue places do, where we live. We like doing it the hard way, as it yields a far superior end result and doing it the way it's been done for decades before us.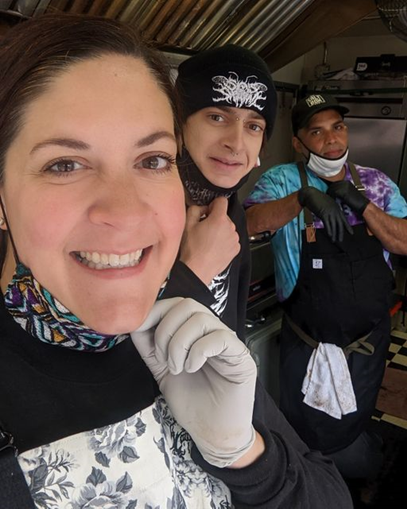 Jessica and JC: A family Affair!
Lang: What did you face as one of the challenging factors in running your business?
JC & Jess: Timing our cooks, and rest times in order to produce the best barbeque. Licensing can also be a challenge at times depending on the location(s), and what we deal with this year with the constant rise in food prices.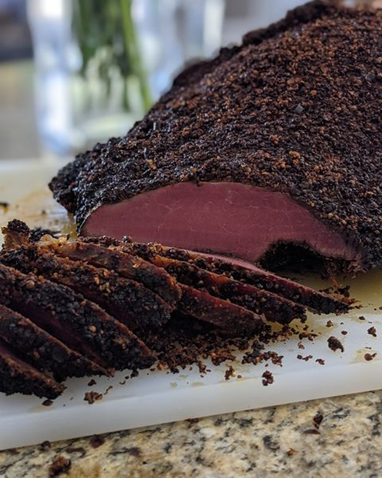 Lang: Do you have a restaurant, a food truck or other?
JC & Jess: We work with a food trailer. We dream of buying a small hobby farm in the near future and opening a barbeque farm concept where families can bring their own blankets and chairs, pick their spot to sit and enjoy the views of the farm and order barbeque.
Lang: How did you go about starting the business?
JC & Jess: We knew we wanted to open a food truck for years, so we spent a lot of time researching everything we needed to do to become licensed in our area. We saw a food trailer for sale in a local Facebook group one day that was also a barbeque trailer. We figured "what will it hurt to go look at it," and of course we immediately fell in love with it. This lit an extreme fire under us to take the leap and buy it. We brought our trailer home June of 2020 and started serving Sept 2020.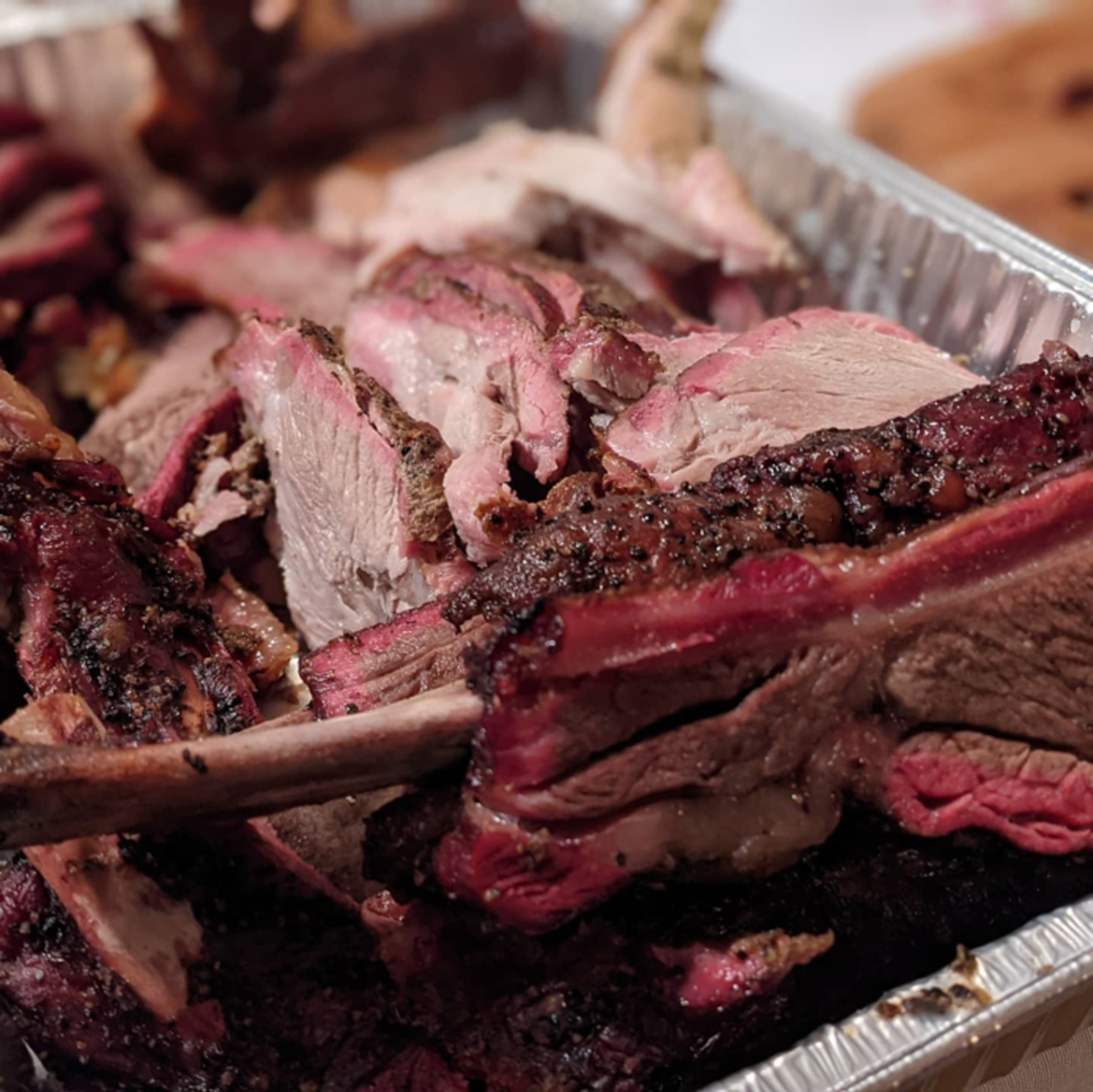 Smoked a turkey, pernil (Puerto Rican style seasoned pork shoulder) beef ribs, and a brisket.
Lang: Can you share some other points?
JC & Jess: We're known for our brisket, we also do pulled pork and halved chickens using only dry rubs. Our sides (for now) are macaroni and cheese and smoked baked beans with pork belly burnt ends, and cornbread with a homemade honey butter drizzled on top. JC and I hope to expand our menu next year with new cooking equipment inside our trailer. We both love to cook, especially for others. I love the way food brings people together, a commonality shared at any table. I want to give people food that they can't stop thinking about. Those are my favorite meals.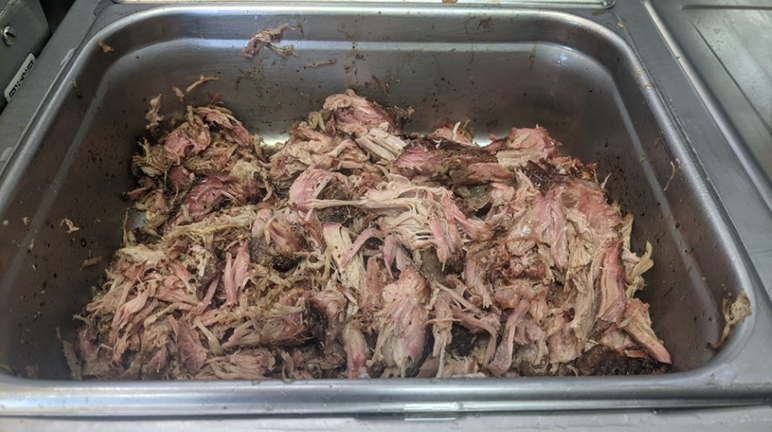 Lang: What about the pitfalls you didn't expect when you went into business?
JC & Jess: Hard sale days. You know they're looming around somewhere, and they hurt when they hit. Equipment failure is also a hard one. Our fridges stopped working in 95 degree heat this summer and we lost a large amount of meat for an event.
Lang: Is there anything you would recommend to someone new getting in the business?
JC & Jess: Take the time to do your homework.  Take the time to pay off any debt you might have, and to save for business purchases.
Lang: When did you first purchase a Lang?
JC & Jess: The Lang 84 Deluxe with char griller, purchased in 2017. We use this to cook everything we sell on our food trailer.
Lang: What features do you like best about Lang?
JC& Jess: JC really likes how the warming box adds cooking space, and most of all the smoker is built with strong welds and thick steel which makes us confident it will last a long time, especially in our fluctuation with extreme weather temperatures in MN.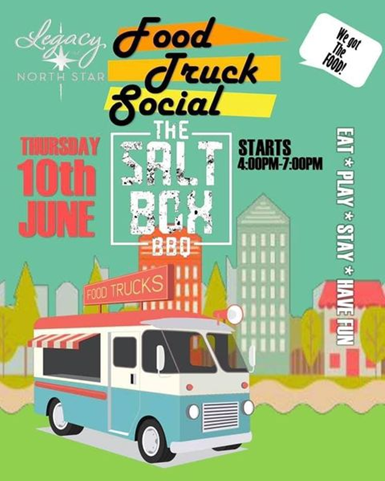 Lang: What's your take on Reverse Flow?
JC & Jess: We really like how the reverse flow keeps temperatures even across all cooking surfaces from the front to the back of the smoker.
Lang: What is your main goal as chefs?
JC & Jess: We want to make the kind of meals you can't stop thinking or talking about. I can't say we have a certain goal about being a chef(s, it's hard to consider myself as that. But I just want people to feel all the love that goes into our food that we love creating and sharing with others. We love what we do, we make everything from scratch, and I think that's where the love lies in the food.
Lang: What are the favorite meals you like to prepare and why?
JC & Jess: One of our favorite meals is smoked tri-tip. We have four kids, and we love to have everyone sitting around the table together, or extended family over. We love to serve this with loaded mashed potatoes, a side salad, or roasted vegetables, topped with my favorite sauce I make – cilantro/lemon/jalapeno Greek yogurt sauce.
Lang: Are you in any competitions?
JC & Jess: We do not participate in competitions. JC isn't interested in doing that, maybe down the road but for now we just like to make it for us or our food trailer.
Lang: What can you share about the barbeque community as a whole?
JC & Jess: We love how supportive the barbeque family and community are. There has never been someone who wasn't willing to help us or answer our questions. Everyone is so loving and helpful and the longer I'm a business owner the more excited I am to help others wanting to do the same. We have made wonderful relationships with other barbeque people.
Lang: What type of wood do you favor when cooking?
JC & Jess: We like to use red oak.
Lang: Can you share a recipe with us and include a photo as well?
Our Tri Tips – season generously with salt and pepper. Smoke to 115 degrees internal temp, finish by searing over coals on the char griller.
Click to read their recipe for Cilantro Sauce.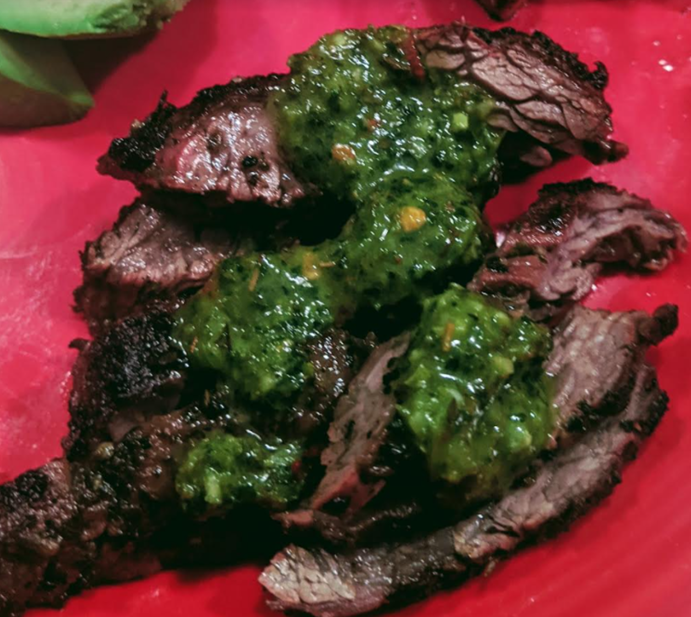 Tri Tips pictured with a chimichurri sauce on it